The Apple Watch will get its first game on launch day, and that game is Watch Quest: Heroes of Time. Developed by WayForward Technologies, the team behind DuckTales Remastered and Mighty Switch Force, the game will be available when Apple Watch goes on sale on Friday 24 April.
While the game is being described as an exclusive for the Apple Watch, it will also require an iPhone to play – as will the watch itself. With the iPhone players will choose their hero and equipment, then journey with that hero on the watch.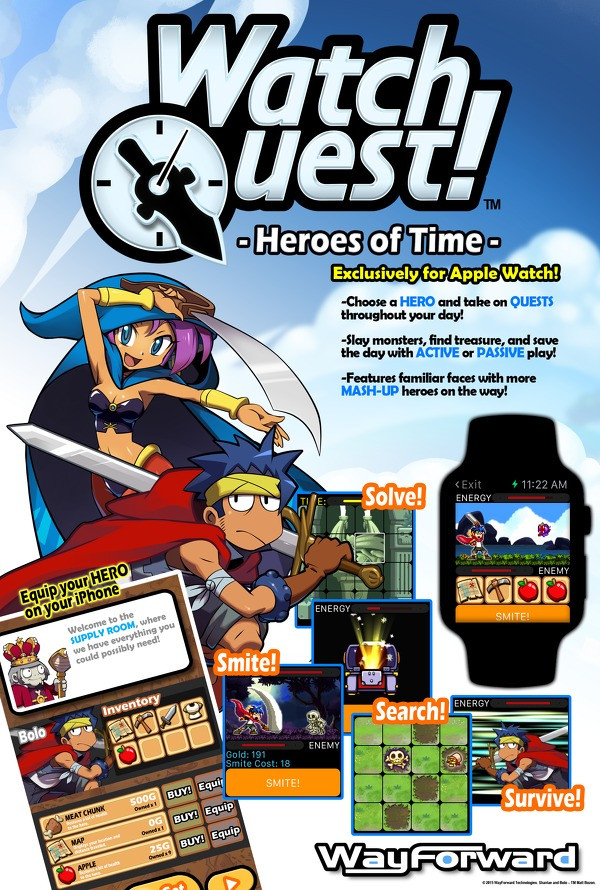 That journey which "spans several hours" will see the hero traverse a basic environment battling beasties, solving puzzles and collecting items. There will be a variety of quests to complete with varying difficulty levels and levels of participation.
Watch Quest will be free with one training quest. Further quests, as well as extra characters, will be purchasable via the iPhone portion of the game.
The Apple Watch and all smart watches represent a potential new platform for games to thrive, as they have on other smart devices. Quite how far that potential goes remains to be seen - personally I just want a watch that tells the time, not one that plays Flappy Bird clone #542.