The Apprentice winner has finally been crowned after 12 long weeks, and life has never tasted so sweet for cake maker Alana Spencer. Lord Sugar's new business partner and has bagged the £250,000 investment for her culinary business plan. Kerching.
Producers spiced up the entrepreneurial series by bringing in previous firees to help the two finalists, Courtney Wood and Alana Spencer, to pitch their actual, real-life business plans that Lord Sugar's investment solely depends on. As expected, it was nothing short of entertaining and intense.
Aside from the 10 weeks of fun tasks (week 11 was the interview stage), it doesn't matter if you have the best sales record in the history of time; if your business plan sucks, then Lord Sugar ain't interested, folks.
Luckily for 24-year-old Spencer, who resides in Ceredigion, Wales, she had a strong business focus from the start, already owning her successful cake company, Narnas Cakes. Spencer's expert knowledge in her field of choice ensured Sugar's confidence in her; take note 2017 Apprentice hopefuls...
In an exclusive chat with IBTimes UK, Spencer revealed what it felt like to be the winner of The Apprentice 2016. She said: "It feels amazing! I think I'm still in shock but it's incredibly exciting and I can't wait to get started."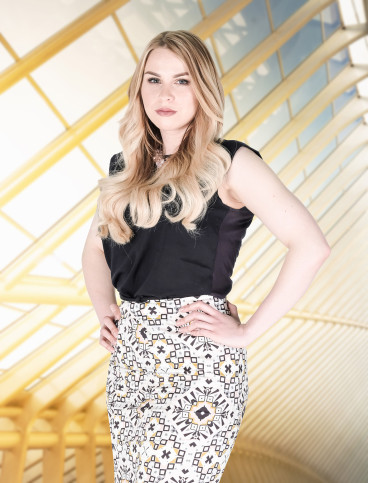 And though she was confident that she could be Lord Sugar's business partner from the start, Spencer admitted to doubting herself at times.
She added: "When I applied I thought I had a good chance, but I think it was obvious my confidence took a little bit of a knock. By the time I reached the final five, I started to believe I was in with a chance again."
Spencer started her first business, a chocolate company, at the age of 17, before moving on to selling cakes. She describes herself as "determined, creative and charming," and before the twelfth series began, claimed that she was "incredibly hard working and driven." That she has proved.
Discussing her future with Lord Sugar's guidance, and financial investment, she explained: "So the plan is to recruit a team of ambassadors that will be working for themselves to supply the 'By Alana' products to both food events in their area, as well as cafes and delis.
"I plan to keep production in Wales as I think this is really important."
Aside from having a solid business plan, Spencer believes her big win had a little something to do with her personal rapport with Lord Sugar.
She said: "I think Lord Sugar was up for an exciting new challenge and I think he saw something in me. I think he liked that I listened to his advice in the boardroom and learned."
Spencer also revealed what she thinks Sugar looks for in a business partner, continuing: "Lord Sugar looks for someone who is willing to work hard and has a passion for the business they're proposing".
"I think he wants someone who values his expertise and will take his comments on board," she added.
On her highlight of the series, it was her rival Courtney Wood's GIIN idea that was most memorable to her. She said: "There have been so many highlights. I think being told we had achieved over £70,000 in GIIN sales was pretty amazing!"