Renowned iOS hacker and jailbreak developer, iH8sn0w, has reportedly released an iCloud activation lock bypass tool dubbed as 'R0bf0rdsn0w', challenging seasoned jailbreakers to hack the password needed to open the zip file or archive which contains the tool.
The veteran hacker has allegedly encrypted the package contents with a passcode that can only be broken using an A5 iBoot exploit, according to iClarified.
Those unfamiliar with the iCloud Activation lock feature in iOS 7 or later, should note that the feature was newly introduced by Apple in Find My iPhone app which can be setup on first use.
NOTE: The iCloud Activation lock prevents anyone from using or selling a stolen iPhone, and requires the owner's Apple ID and password to turn off the activation lock.
In response to a petition at change.org, iH8sn0w has announced the release of R0bf0rdsn0w as a universal iCloud Activation Lock Bypasser.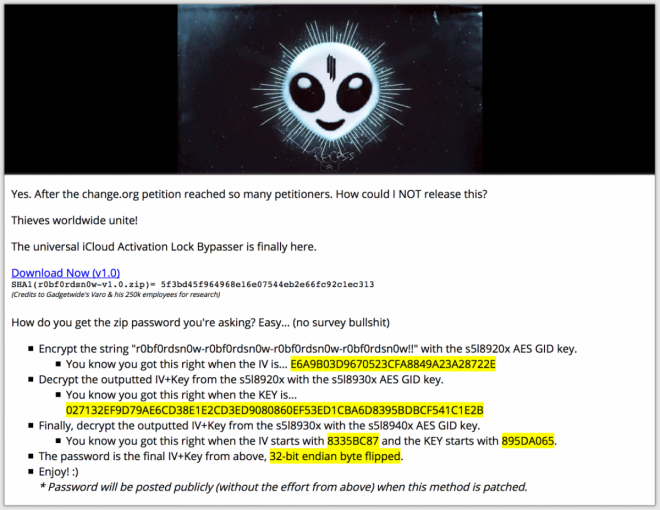 Here is what iH8sn0w announced about the release via Twitter:
"Best time to release something legit: April Fools.
"New concept: Release something legit but require drastic things to unlock the file."
r0bf0rdsn0w.ih8sn0w.com
Good night.
Whoever grabs the key first gets my heart.,
FTR, you'll need an A5 (s5l8940x) iBoot exploit to get the password. Let the games begin.
Full instructions are posted on the site.
Yes. After the change.org petition reached so many petitioners. How could I NOT release this?
Thieves worldwide unite!
The universal iCloud Activation Lock Bypasser is finally here.
Those who are still wondering, here is an easier way to hack the password to unzip or unarchive the iCloud activation lock bypass tool:
Encrypt the string "r0bf0rdsn0w-r0bf0rdsn0w-r0bf0rdsn0w-r0bf0rdsn0w!!" with the s5l8920x AES GID key.
You know you got this right when the IV is... E6A9B03D9670523CFA8849A23A28722E
This part was posted on twitter...
Decrypt the outputted IV+Key from the s5l8920x with the s5l8930x AES GID key.
You know you got this right when the KEY is... 027132EF9D79AE6CD38E1E2CD3ED9080860EF53ED1CBA6D8395BDBCF541C1E2B
Finally, encrypt the outputted IV+Key from the s5l8930x with the s5l8940x AES GID key.
You know you got this right when the IV starts with F8A555D2 and the KEY starts with F4DFD3CB.
The password is the final IV+Key from above, 32-bit endian byte flipped.
Though the tool has been posted on April fool's Day, iH8sn0w has confirmed this is real and only takes some genuine hacking skills to break the passcode and win the activation key for the tool.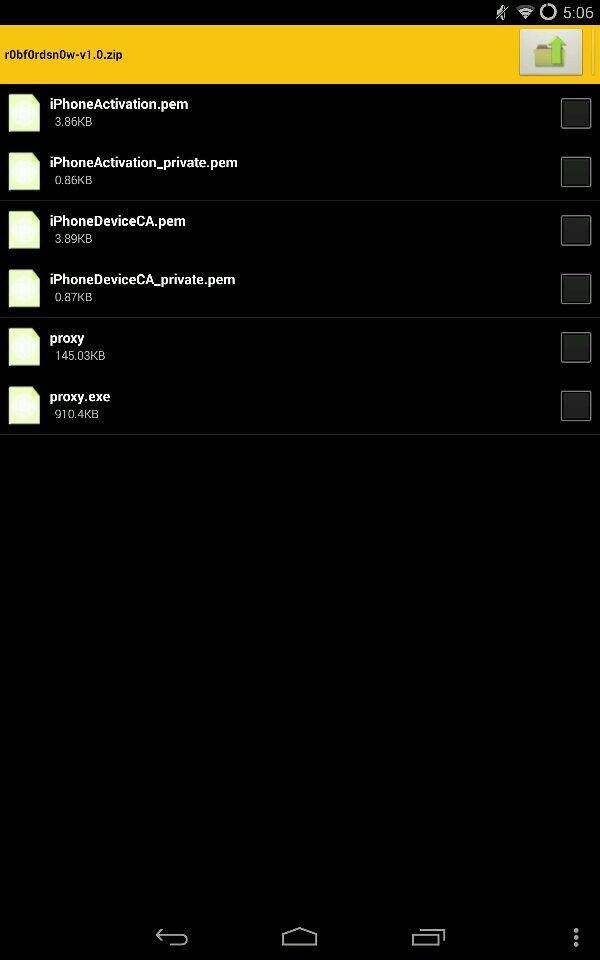 HINT: iH8sn0w has released the first decryption key to break the password of the tool's archive or zip file: (s5l8920x): e6a9b03d9670523cfa8849a23a28722e3c083980452574871418763c6e0ee2cf6f0a952652791ca74d3206d6e5b15368 #r0bf0rdsn0w
There is also some sample code at the bottom of the R0bf0rdsn0w site for those who are trying to figure it out.
Download R0bf0rdsn0w here.