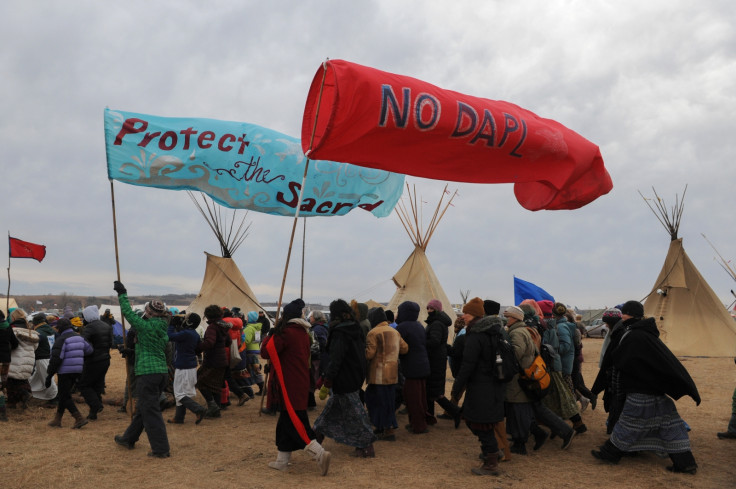 North Dakota Governor Jack Dalrymple has issued a mandatory evacuation order on Monday (28 November) of protesters attempting to block the construction of the Dakota Access pipeline.
However, neither the state nor the US Army Corps of Engineers have plans for the "forcible removal" of protesters. Both orders of evacuation come as divisions among the demonstrators are coming to light.
A week earlier, the Army Corps announced plans to close the camp by 5 December and warned that anyone who remained at the camp led by the Standing Rock Sioux tribe could be prosecuted for trespassing, the Los Angeles Times reported.
Following backlash over its announcement, the government said on Sunday that it had "no plans for forcible removal" and "is seeking a peaceful and orderly transition to a safer location".
The governor called the Corps' backtrack "puzzling" before issuing his own evacuation order on Monday. "When you put out a pronouncement that people must leave your land by a certain date, I think you take on a responsibility to somehow bring that about," Dalrymple said, according to The Associated Press. "Clearly the responsibility of clearing that land now lies primarily with the Corps."
Dalrymple's "mandatory evacuation" cited the "harsh winter conditions" as reason for the protesters to leave. The AP noted, however, that the order did not specify what action would be taken against protesters that did not comply. North Dakota Emergency Services spokeswoman Cecily Fong later added that no action would be taken to enforce the order.
The two evacuation orders come amid reports of discontent among some protesters. According to The Independent, some protesters are complaining that white demonstrators are "colonising" the camp and treating protests like the Burning Man festival.
The Independent reported that protester Alicia Smith claimed on Facebook: "White people are colonising the camps. I mean that seriously. Plymouth rock seriously. They are coming in, taking food, clothing and occupying space without any desire to participate in camp maintenance and without respect of tribal protocols."
Smith continued: "These people are treating it like it is Burning Man or The Rainbow Gathering and I even witnessed several wandering in and out of camps comparing it to those festivals."
In an attempt to address the issue, the camp's ground rules have been shared on Twitter, the Independent reported. The rules ask protesters to avoid drugs and alcohol, refrain from playing guitars around campfires, and engage with the elders.
The 1,172-mile (1,886km) Dakota Access pipeline is nearly complete except for the small section underneath a Missouri River reservoir by the camp. Protesters going by the name "water protectors" argue that the pipeline could affecting drinking water that the Standing Rock Sioux tribe depends upon.