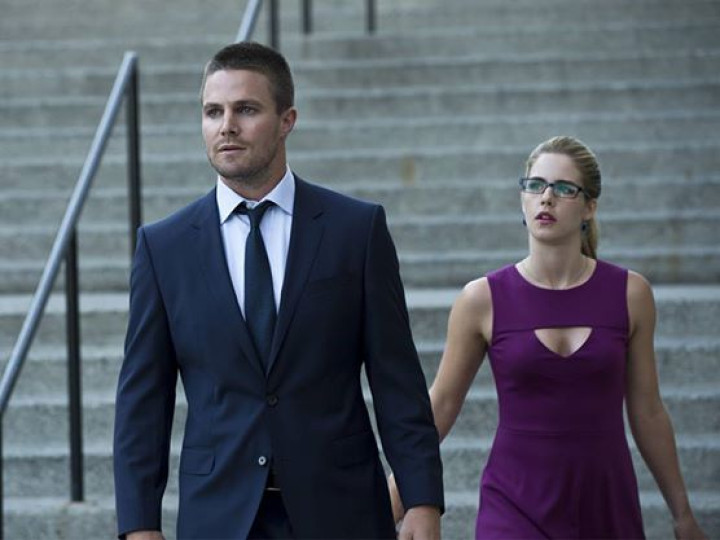 Arrow Season 3 Episode 5 titled The Secret Origin Of Felicity Smoak will show flashbacks to Felicity's hacker days at MIT — which is tied to a virus plaguing Starling City in present day.
Viewers will learn more about Felicity's past and get a deeper insight into her life when her mother unexpectedly shows up. "Mom comes to town and then everything breaks down from there," actress Emily Bett Rickards teased during an interview with Entertainment Weekly.
Rickards, who seems super excited about getting an origin episode for her character, also revealed some details on the state of Felicity and Oliver's relationship.
"They care really deeply for each other on more than just a platonic level. There's a deep love there," she said. "... but it's also scary and a little inconvenient. Sara's death is still very fresh. Having to take a lot of emotional responsibility for it doesn't leave much emotional liberty for other things, like romance and fun. They need something good to happen to them really soon."
Meanwhile, Felicity's Gothic look from her flashback scenes seem to have sparked off some rather interesting rumours and theories about a possible DC crossover event. First check out Felicity's past look below:
Oliver isn't the only one with a dark past. #Arrow is all new Wednesday! @EmilyBett pic.twitter.com/DjCgBrl8S1

— Arrow (@CW_Arrow) November 3, 2014
Her look in the upcoming episode bears a strong resemblance to Death – a character from Neil Gaiman's Sandman comics.
So basically the secret origin of Felicity Smoak is that she's Death from the Sandman comics? #FelicitySmoak #Arrow pic.twitter.com/oRNbTeHJeN

— Austin Jones (@Austinj82) November 3, 2014
While the similarities led to fans speculating about some kind of connection to DC's upcoming Sandman movie, according to an io9 report, it's a highly unlikely possibility.
"It makes no sense for the Arrow character to have literally been an immortal god prior to working for the vigilante. I think we can just say this is Arrow giving DC fans a delightful easter egg to put them into a tizzy, and not a harbinger of anything more substantial," states the report.
The official synopsis of the upcoming episode reads as follows:
"When a cyber attack brings Starling City to its knees, Oliver and Felicity are pushed to their limits to contain the destruction. Life gets even more complicated for Felicity when her mother, Donna [guest star Charlotte Ross], stops by for a surprise visit. Meanwhile, Ted Grant [guest star JR Ramirez] questions Laurel's motives, and Thea buys an apartment with Malcolm's 'estate' money, which infuriates Oliver."
Arrow Season 3 Episode 5 The Secret Origin Of Felicity Smoak airs tonight (Wednesday 5 November) at 8pm ET on The CW.
The episode will be made available online on the CW official website. You can also watch the episode online via Live Stream.