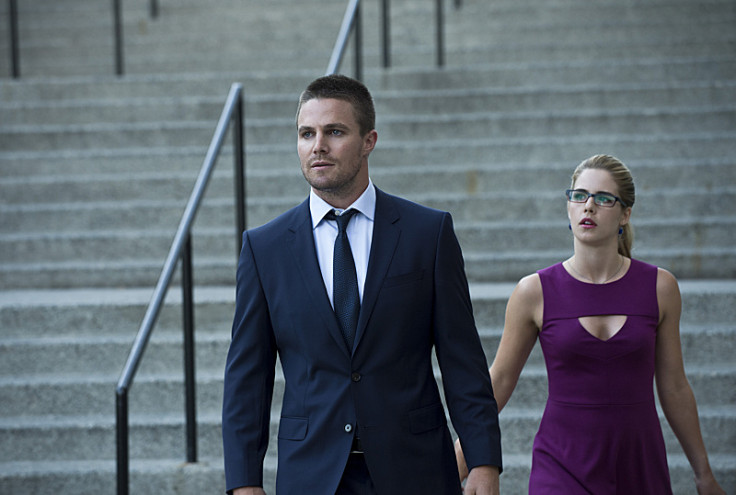 Arrow season 4 will reportedly bring a whole lot of new issues for Oliver and Felicity.
After three seasons of playing hide and seek, the couple finally got together and drove off into the sunset in the season 3 finale. However, their relationship will be put to test as Oliver gets called back to Starling City in the upcoming season.
Their return to the city may be the beginning of the obstacles that is said to pop out in their relationship, reports Christian Post.
The show's executive producer Wendy Mericle told TV Guide, "We really wanted to explore the ups and downs of a traditional TV relationship, like we've established with Oliver and Felicity, and pretty much throw everything at it that we can and see if they'll make it through."
A new villain Damien Darhk (to be played by Neal McDonough) will pose a major threat to Starling City and Team Arrow will need Oliver back. Rumours suggest that Oliver's sister Thea will land herself in trouble with the new villain causing Oliver to return as the Green Arrow.
Reportedly, the season 4 premiere episode will also feature Sara Lance aka White Canary. There is no confirmation as yet though, but the series creator Marc Guggenheim has said that White Canary will be playing an important role in the first few episodes of Arrow season 4.
Meanwhile, actor John Barrowman (who plays Malcolm Merlyn and now the new Ra's al Ghul) has assured that the season 4 premiere will be intense.
"Bring your tissues, bring everything..." said Barrowman in an earlier interview with TVLine. "It's one of those episodes where, when you're watching, you're gonna go, 'What?!?!'" (via Franchise Herald)
Arrow season 4 premieres on 7 October, 2015.