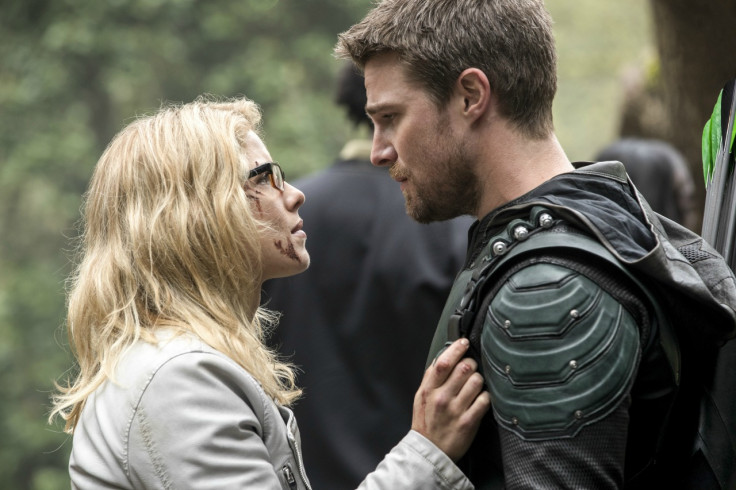 Arrow came full circle in the season 5 finale, as Oliver Queen and every other person in his life returned to Lian Yu – the deadly island in the South China Sea where Oliver's journey towards becoming the green hooded vigilante began.
The finale episode titled, Lian Yu, ended on a shocking cliffhanger. The episode opened with Oliver teaming up with his enemies-turned-allies — Nyssa al Ghul, Malcolm Merlyn, Digger Harkness and Slade Wilson to battle Adrian Chase and save his captured friends and loved ones.
After a double-cross, an unexpected sacrifice by Malcolm and a few epic fight scenes, everyone is freed from Chase's chutes, except for Oliver's son. While Oliver goes out looking for William, the rest of the team – who are on their way to find a boat to get off the island – learn that the entire island is wired with high-tech explosives connected to Chase himself. If Chase died, the island would blow up.
In the final moments, Oliver watches helplessly as Adrian shoots himself in the head, triggering a chain of explosions on Lian Yu. While Oliver, along with his son, is safe from the blast, the rest of the team are not that lucky. The last thing Oliver tells Felicity before the island erupts is that Slade Wilson knows the path to an escape. However, it is not known if the Arrow gang made it offshore.
Is this the end of the Oliver-Felicity love saga? The episode also featured a big Olicity moment when Felicity kissed Oliver before parting ways. "What was that for," asks Oliver to which she replies, "Just in case." However, the Green Arrow maintained that they will make it through.
Felicity then says, "You can't know that for sure. I don't want to regret not kissing you," but Oliver brushes her off saying they will talk more after they get off the island. Was that the couple's last interaction? Is there no Oliver-Felicity romance in season 6? We will have to wait until fall to know more.
Showrunner Wendy Mericle previously told Entertainment Tonight that the show's creative team is looking at season 6 as a "fresh, clean slate". Mericle said in January, "We've closed this chapter on the first five seasons, and it's going to be time to start looking at new ways of writing the show and exploring different structures as well. We're a little bit freed up by not having to do the flashbacks, as well, which is actually really refreshing and exciting."