Arsene Wenger is hoping that he can salvage Arsenal's season by convincing Arsenal legend Thierry Henry to return to the club until the end of the season.
The Sun has reported that Arsenal have already agreed to bring Henry back to the Emirates on an initial six week deal, but Wenger is keen to extend the loan until May as he looks to rescue a season which has begun in disastrous fashion.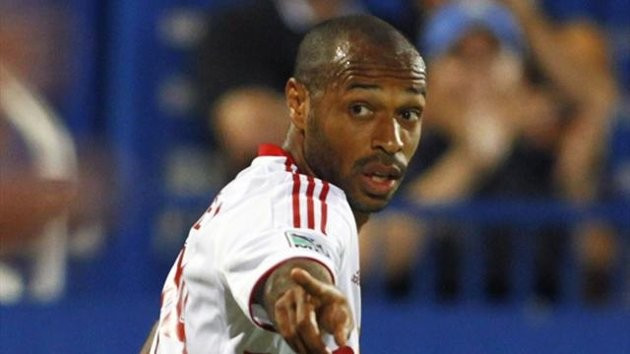 With fifteen league games gone, Arsenal have endured their worst start to a season in 18 years and currently find themselves languishing in 10th place after a shock 2-0 home defeat to Swansea last weekend.
Henry returned for seven games last season and scored two goals and Wenger will be hoping that he can have even more of an influence if he returns again this season.
However, it will not be easy to persuade the New York Red Bulls to sign off on a deal which keeps Henry at Arsenal until the summer as he would miss two months of the MLS season which begins in March.
The former France international has been a huge success in the MLS as he has scored 32 goals in 61 games since deciding to leave Barcelona and try his hand in the States.
The 35-year-old, who is Arsenal's leading ever goalscorer with 226 goals, spent three days last week training with the club at their London Colney base and remains a firm favourite amongst supporters.
Wenger may also hope that the return to Henry would get the fans back on track after a number of supporters voiced their anger after the defeat to Swansea.
The Sun believes that Henry has indicated that he would be willing to remain in the Premier League until the end of the campaign as Arsenal look to continue their record of qualifying for the Champions League in every season under Wenger.