Bacary Sagna says Carl Jenkinson can be a future star for Arsenal, with the 20 year old continuing to improve as Arsene Wenger hands him chances with the senior side.
Jenkinson has so far made nine appearances for the Gunners this season, and after a nightmare start to playing for the club last season where he was handed a red card in the 8-2 thrashing to Manchester United, things have settled down for the lifelong club fan.
And Sagna, who himself is making a comeback from a fibula fracture in May, says that his teammate is showing just how good he can be for Arsenal both on and off the pitch this season.
"He has been really good, and has learned a lot," he told the Arsenal website. "He is a bit more confident with the ball, and is very solid as a defender.
"He brings a lot to the team, and I am very happy for him because he is a hard worker, a very good guy and is going to be one of the best."
Jenkinson has indeed rounded out a solid defence for Arsenal this season, with the players at the back taking advice from much-praised assistant manager and former defender Steve Bould.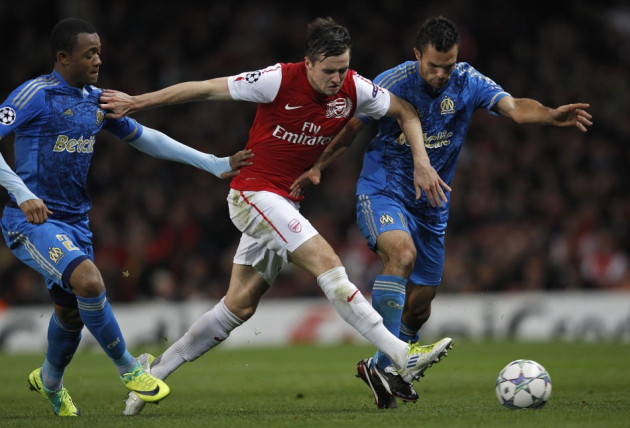 And Sagna, who played for the Arsenal Under-21 side this week as he looks to make a comeback to the first team, says he is just happy to be playing football again and looking at getting even better than he was before.
"It is amazing to be back, I have been waiting for this moment for five months," he explained. "This was my target: to come back and play, firstly for the under-21 team. Everything went well and we won, so I am very happy.
"I have been working really hard. I spent some time in the rehab centre, then I came back and worked really hard with the fitness coach and the physios to be ready to play - and finally I have.
"When you have such a big injury once, you take it, but twice is hard. In my mind I was a bit sad, but the next day I was ready for the challenge, which was to come back stronger and I am in a good way today."
He added: "I don't have any target - my only aim is to be ready and bring what I can to my team, to give 100 per cent like always."