Arsenal and Chelsea could take on each other in a play-off to determine the third place in the Premier League, after the final round of matches on Sunday.
Both London sides are now extremely close to finishing the season level on all counts, thanks to the Gunners' 4-1 win over Wigan Athletic at the Emirates on Tuesday. Arsene Wenger's side has now moved back to within two points of the Blues (72) and cut the latter's goal-difference advantage (35) over them to just one.
The four goals scored by Arsenal on Tuesday also reduced Chelsea's goals total advantage (73) over them to just two, bringing in an unprecedented prospect of the both clubs finishing the season level on points, goal difference and goals scored.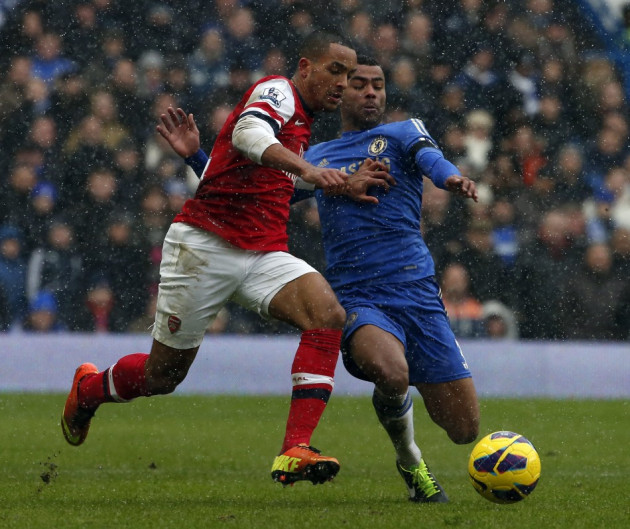 Should the Gunners beat Newcastle United 2-1 at St James' Park on Sunday and the Blues earn a goalless draw with Everton at Stamford Bridge, in David Moyes' last game in charge of the Toffees, then the London duo would both finish with identical figures this season. A 3-2 or 4-3 win for Arsenal would also make it all square, as long as Chelsea gets a 1-1 or 2-2 draw, respectively.
If any of these pair of results happen, the clubs would finish with the same points (73), same goal difference (+35), and even the same number of goals scored and conceded, after the final round of this year's Premier League.
Chelsea had beaten Arsenal 2-1 on both occasions they met this season but Premier League rules do not look at the head-to-head record of individual teams, unlike La Liga, and instead favours a play-off to determine the winner.
Such a match will be needed in this case, especially since third place gains automatic qualification to the Champions League group stages, while the fourth-placed team will have to negotiate a two-legged qualifier in August for the same.
As usual, Wembley would have been an ideal neutral venue, if the play-off situation arises. However, it's highly unlikely that the turf would be available this month, with the Champions League final scheduled there on May 25 and England hosting the Republic of Ireland on May 29.
The play-off will also cause scheduling headaches to the Premier League and Chelsea. The Blues have already committed to playing two post-season friendly matches against Manchester City in the United States on May 23 and 25.