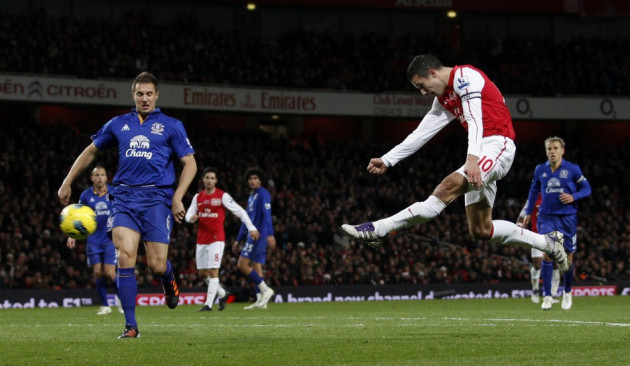 Click Here - To watch highlights of Arsenal 1-0 Everton!
Arsenal marked their 125th anniversary in a 1-0 win over Everton at the Emirates Stadium with a truly fitting Robin Van Persie goal in the Premier League on Saturday.
In a much deserved, Arsenal spurned plenty of good scoring opportunities with Theo Walcott and Gervinho, on occassions, over-elaborating in threatening areas. Aaron Ramsey then saw his shot rise just narrowly over the bar and as the game progressed, it looked as though Everton would cling on for a draw.
However, with the clock on 70 minutes, Alex Song lofted a ball into the area to find Van Persie's run. Rather than take a touch and get it under control, the Dutchman struck a sweet volley with the outside of his left foot straight into the corner of the far post.
It was a truly spectacluar goal to mark a landmark moment in the club's history.