In the wake of Manchester City's resurgent title bid, Arsenal legend Martin Keown has praised Carlos Tevez and Sergio Aguero's unorthodox strike partnership.
Tevez scored a hat-trick as City beat Norwich 6-1 on Saturday to maintain the pressure on leaders Manchester United. Sir Alex Ferguson's side re-established a five-point lead over their city rivals with victory against Aston Villa on Sunday but Keown believes City's Argentine connection will ensure the title race goes down to the wire.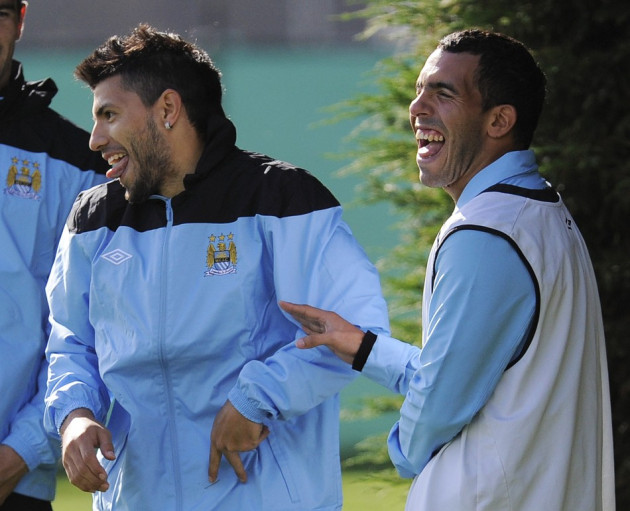 "[Manchester City's] Carlos Tevez and Sergio Aguero do not look like a stereotypical striker partnership - it's not a case of big man and little man - but that does not matter," Keown told the Daily Mail.
"They are both from the academy of geniuses, with brilliant football brains. They have perfect technique, hunger and intelligence all moulded together and played at breakneck speed.
And then, of course, there is the devastating finishing.
"You could put either of them in the Barcelona team and you wouldn't know they hadn't played for them before."
After a fractious period in his Manchester City career, Tevez has begun to look more like the menace that terrorized Premier League defences last season. And his return after a five month absence could not have come at a better time for Roberto Mancini's side. City have now scored 10 goals in two matches since Aguero returned from injury and Keown insists the former Atletico Madrid striker benefits from having his international team-mate alongside him.
"Aguero looks so much happier with someone of Tevez's class alongside him," added Keown. "They recognise where the space is going to be and move to create more space for each other. They are always a few moves ahead of their opponents.
"Because of their technique, they can make most things happen - look at the lovely back heel from Tevez to set up Aguero's first goal. But the key in some ways is their tremendous work rate.
"They are both happy to drop deep and help the midfield - Tevez is usually the one who does this - and that allows them to work so well as a pair."
And Tevez acknowledged the contribution of his Manchester City team-mates to his successful return to the side. The 28-year-old fell out with manager Roberto Mancini after refusing to come on as a substitute against Bayern Munich in September.
"It wasn't easy coming back to training," Tevez told BBC Sport. "I want to say thank you to my colleagues for all the support they have given me since I arrived."