Arsene Wenger has identified winter breaks in the Bundesliga as one of the reasons why Lukas Podolski has struggled in the latter half of Arsenal's campaign.
The German international has enjoyed a relatively stellar first season in the Premier League following his transfer from FC Koln last summer, having hit 14 goals in his maiden season with the club.
However, only five of those have come since the turn of the year, as the forward has struggled to last for the duration of a game in the latter stages of the season. Podolski has not completed a full game for the Gunners since his side's 2-2 draw with Liverpool at the end of January, and has in fact only started three games for the Gunners since February.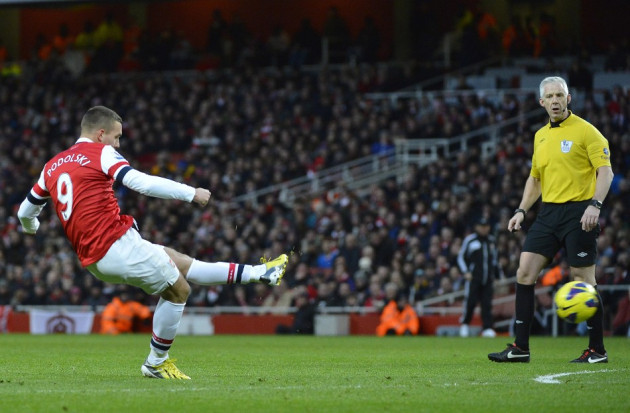 Wenger does not see the German's issue as a problem, however, and believes the fact that he has previously been used to a winter break in his homeland, in addition to the physical demands of his position, are bound to take their toll.
"He had a good start to the season, a very good start," Wenger told the club's official website. "After that, he suffered a little bit physically and mentally because in Germany they have a break in mid-season.
"We have seen with many German players that when they come in for the first season, mentally they suffer a little bit. Now he has recovered and is getting stronger again."
The former Bayern Munich forward has more often than not occupied a wide left position in the Arsenal set up, despite his manager conceding that he proves to be more effective as a natural striker.
"On the flanks is the most demanding position," Wenger added. "Physically, especially in England, it is very tough.
"He is a striker. Many times we were in a position where we were in a winning position in the final 20 minutes and then I take a bit more of a guarantee defensively and take him out of the team sometimes."
With Olivier Giroud still to serve the remaining game of his three match ban, Podolski may be handed the opportunity to lead the Arsenal line against Wigan Athletic in the Frenchman's absence on Tuesday night.