Arsenal have confirmed the signing of FC Cologne striker Lukas Podolski for an undisclosed fee.
The 26-year-old has been heavily linked with a move to The Emirates Stadium having scored 19 goals in 30 games this season.
His goals have however been in vein as Cologne have battled at the bottom of the Bundesliga table for much of the campaign, and the German international says the move to the Premier League is dictated by his own personal ambitions.
"The move to Arsenal gives me the opportunity to play at international level in a top European club," he said.
"This is a great opportunity in my sporting career. The decision for this step is not easy for me because FC Köln, the city and the fans are very special for me.
"I'll hold FC always in my heart. We must now concentrate all the forces together and focus exclusively on the league."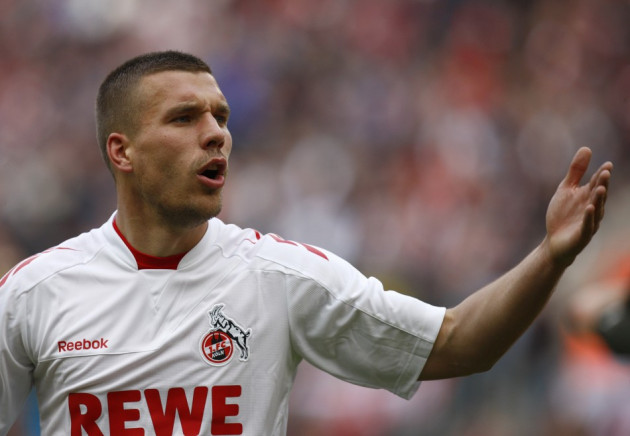 "I'm so happy to be joining Arsenal Football Club and to play in the Premier League. Arsenal is one of the top clubs in Europe with a huge history," he added.
"There are many top quality players at Arsenal and the style of football which the team plays is fantastic.
"I'm proud to become an Arsenal player and am looking forward to playing my first match at Emirates Stadium and doing my best for all the Arsenal fans.
"I am looking forward to becoming an Arsenal player, but at the moment, my focus is with my current club Cologne. I will give everything I have until the end of season to make sure the team finish as high as possible in the Bundesliga. There will always be a place in my heart for FC Cologne."
Arsenal manager Arsene Wenger said: "We are delighted to secure the deal for Lukas and see him as an important part of our future. He is a top-class player, a very good finisher and a proven performer at club and international level.
"He is a very strong player and will provide us with good attacking options.
"We are happy to have made this signing early and we are looking forward to watching Lukas contribute at the European Championships over the summer, a level where he has already made 95 caps at the age of 26. That is a phenomenal record and just shows his quality as a player."
Podolski has enjoyed an eight-year international career and is a veteran of two World Cup tournaments, in which Germany crashed out at the semi-final stage on both occasions.
He brings with him a wealth of international experience having scored 43 goals in 95 appearances for the German national team, while he also endured a three-year spell with Bayern Munich, where his career was dogged by injuries.
Cologne CEO Claus Hortmann says the club are proud of Podolski's contribution during his second spell at the club.
"Lukas Podolski is a world class player with a very special relationship with the FC fans and the city," he said.
"We are proud of the way Lukas Podolski has gone in recent years with FC Köln.
"Therefore, we regret his decision is not against the FC, but his future athletic career, very much. We were ready for a competitive offer and would have extended the contract with Lukas Podolski on this basis.
"The changes have been made earlier than planned. That's a good thing. We will use the opportunity to invest the proceeds of the transfer fee in next generation.
"Luke helped FC in many situations and has shaped the face of the FC in the past few years. We thank him for many great football moments in Cologne. "
Predominantly a left-footed player, Podolski will compete with Gervinho and Alex Oxlade-Chamberlain for a place on the left-side of The Gunners' attack, and will hope to link up with the club's top scorer Robin van Persie, who has 28 goals in the Premier League this season, should the Dutchman pen an extension to his current deal.
Van Persie has scored 20 goals more than any other Arsenal player this season, with Theo Walcott have scored eight times, and Wenger will be hoping Podolski can add a substantial goal threat.