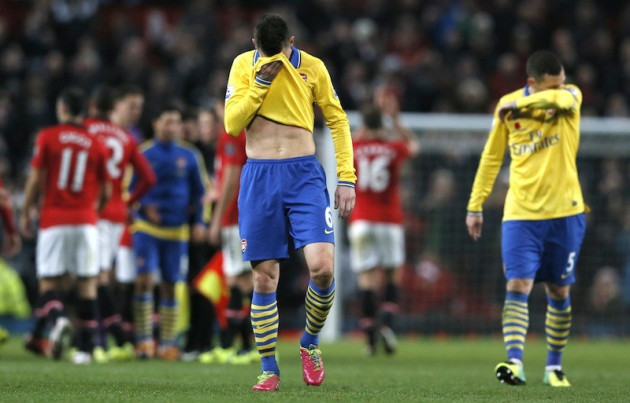 Former Liverpool defender Alan Hansen has predicted that Arsenal's loss to Manchester United will be the start of a bad run for the Gunners and insists that only the Manchester clubs and Chlesea will challenge for the title.
Arsenal went into the match at Old Trafford hoping to prove once and for all that they are serious about winning a trophy this season. After losing just once in their current campaign they had high hopes to prove themselves against a United manager still finding his feet.
But thanks to Robin van Persie it was David Moyes' men who emerged victorious and they are now just five points behind the Gunners who still sit atop of the Premier League table.
And Hansen, who created controversy recently for claiming that Arsenal still have the same defensive problems this season as in the last four years, now argues that the north London side are set for a downward spiral that will come as the result of their lack of depth.
"Arsenal's challenge is not dead and buried after losing at Old Trafford and I do not think they will be too disappointed with the way they played, but they will have a bad run," he wrote in the Telegraph. "And when they do have that bad run, I believe it will be worse than anybody else's.
"I cannot see any other credible alternatives for the title this season beyond United, City and Chelsea. City and Chelsea may have the best players but United are just United.
"It had been a difficult start for Moyes and his players - but they have always been in the title race and remain a serious threat.
"Liverpool have made a fantastic start but they have not got the strength in depth, and Tottenham Hotspur cannot do it."
Arsenal will now go into the international break hoping to regroup and focus on getting back on track when they face Southampton on November 23rd.