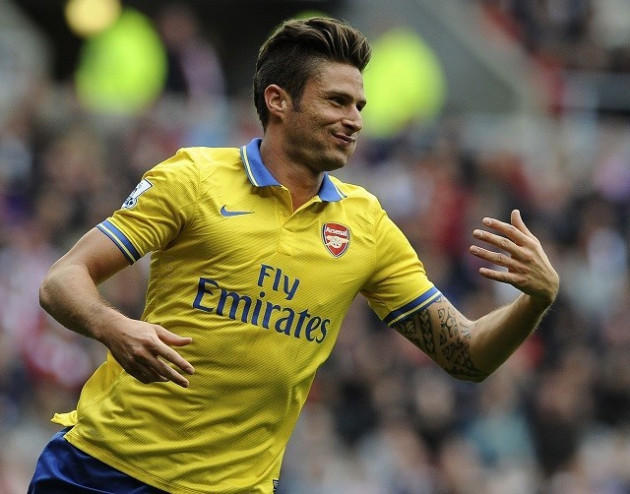 Arsenal striker Olivier Giroud has allayed fears over his fitness by stating that he will not suffer a burnout after playing a part in each of Arsenal's games thus far.
The former Montpellier man has already played in 16 games, two months into the season and with more than 40 games left, the Frenchman will be hoping for some respite. The 26-year-old has been in good form for the Gunners, scoring in their 2-1 loss to Borussia Dortmund in midweek and assisted two in their last Premier league win over Norwich City at the Emirates last weekend.
Arsene Wenger does not have too many options to fall back on in case of an injury to Giroud, with Theo Walcott currently out of contention and Nicklas Bendtner still trying to recover his best form after languishing in the sidelines for more than a year. Wenger has been linked with a move for Karim Benzema in January and is also reported to be keeping an eye on out of favour Juventus striker Fernando Llorente and can push for a loan move in the upcoming transfer window.
The Frenchman is disappointed by Arsenal's first Champions League loss to Dortmund but expects them to bounce back, with their qualification hopes currently in a precarious position.
"I feel good. Maybe I will have some rest next week, for the Capital One Cup [Arsenal play Chelsea on Tuesday], I will speak to the boss. I'm used to playing a lot of games and I feel good with my body so, touch wood, no injuries. I don't want to find an excuse. We lost against Dortmund but we have won almost every other game, so it's not the time to be really worried but we want to come back Saturday and win the game," Giroud said.
His commitment to come back with more vigour in the latter games was backed by Jack Wilshere, who believes that they need to win against Crystal Palace in the weekend to get their winning mentality back.
"We can't let this result affect us now - especially in the Premier League, where we are on a great run. It will be tough away at Palace, it always is. They will fight for every ball and it will be a different game from Dortmund, but we still have to bounce back straight away. We aim to win every game, it will be tough, but we have been to Dortmund before and were unlucky not to win," Wilshere stated.