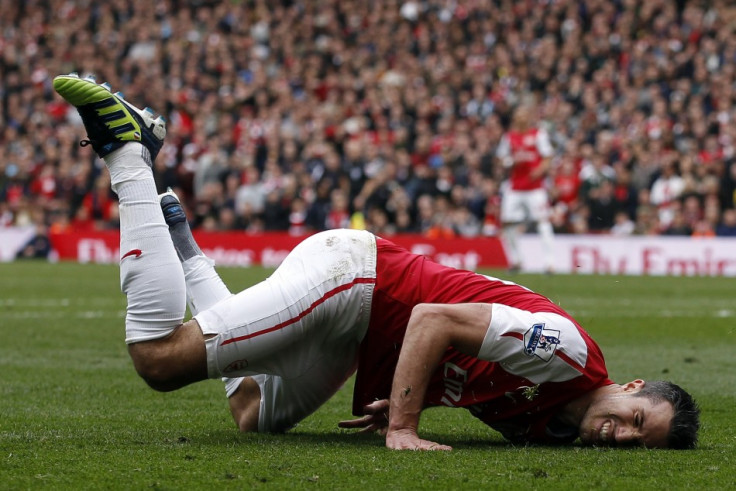 Arsenal skipper Robin van Persie, after already picking up the Professional Footballers' Association (PFA) Players' Player of the Year and the Football Writers' Association (FWA) Footballer of the Year awards, could be breaking many records this Sunday during the Gunners' final clash with West Bromwich Albion.
The 28-year-old Dutch striker, who is also the top scorer in the Premier League with 30 goals, is now looking to break multiple records in Arsenal's final game of the season.
Earlier in March, the Dutchman became the third player, along with Malcolm Macdonald (1976/77) and Henry (2003/04, 2004/05 and 2005/06), in the last 40 years to score 25 goals in a single season. In the entire history of the Gunners, van Persie is the 15th player to reach this milestone, according to a report on Arsenal's official web site.
Also, the Dutch striker, whose future with the Gunners is still undecided, has now equalled French striker Henry's tally of 30 league goals in a single campaign (2003/04 season).
Although the Gunners all-time record for most goals in a single season is 42 (set by Ted Drake during Arsenal successful 1934/35 season which saw them fire 115 goals), van Persie will equal Ronnie Rooke's record of 33 goals (set after the Second World War) if he manages to score a hat-trick during Arsenal's final Premier League fixture this season.
Apart from that, the talented Dutchman is just one short of equalling Alan Shearer's (1995/96) and Cristiano Ronaldo's (2007/08) Premier League record of most goals in a single season.
Van Persie is also currently in third place, below Lionel Messi (50 goals) and Ronaldo (45), in the race for the European Golden Boot, which is an award given to the overall highest goal scorer (in domestic leagues) in Europe.
Arsenal boss Arsene Wenger, who knows his side need to win their final game if they want to qualify for the Champions League next season, feels that a win in the final game would better chances of van Persie signing a new contract at the Etihad.
"On my side I am inclined to think 'yes', but you should ask him. I don't know whether it will have an influence on him. Anyway, we don't focus on just that. Robin is not at the end of his contract," Wenger was quoted by the UKPA (United Kingdom Press Association) as saying.