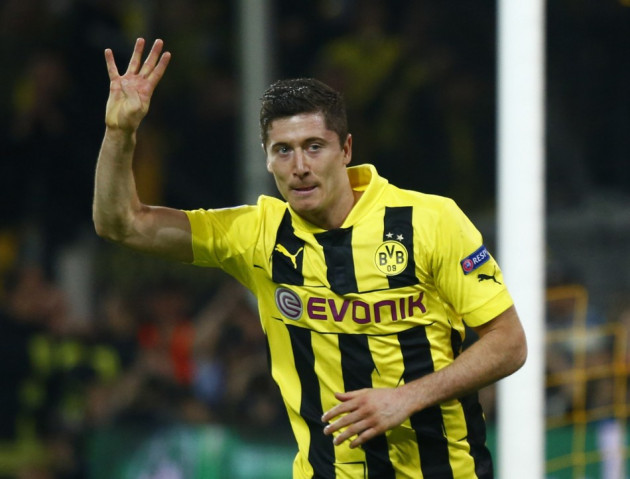 Lukas Podolski has urged in-demand Borussia Dortmund striker Robert Lewandowski to join him at Arsenal as he believes the Pole would be the perfect fit for the north London club.
A host of European clubs are said to be interested in signing the prolific striker after another superb season at Dortmund where he helped the club reach the Champions League final by firing four goals against Real Madrid.
The Spanish giants are said to be chasing Lewandowski, as are Manchester United, Chelsea and Bayern Munich. However, Dortmund have stated that they want to keep the striker at the club despite him having just one year remaining on his contract.
Lewandowski has shown little desire to sign a new deal with the club and it is expected that he will be available on a free transfer from next summer, unless Dortmund change their minds and sell him either this summer or in January.
Manchester United have long been linked with the Poland international as Sir Alex Ferguson was a known admirer of Lewandowski, but it is unclear whether new boss David Moyes feels the need to sign another striker.
Chelsea are certainly in the market but it seems Podolski is hoping that Arsenal might also stand a chance of signing the 24 year old.
"First of all, it should be him that decides, not journalists or managers," Podolski told Polish website polskatimes.pl.
"This is a guy who scored 24 goals in the league this season. He could handle it anywhere. He would fit perfectly at Arsenal."
Podolski spent the majority of his career playing in the Bundesliga and knows exactly what it takes to be a success in the Premier League after his first season in England in which he scored 11 league goals.
Podolski's best ever return in the Bundesliga was when he scored 24 goals for Cologne back in the 2004/05 season, while Lewandowski has fired 46 league goals in his last two seasons.
The former Lech Poznan striker fired 36 goals in all competitions last campaign and it is certain that he will have plenty of options when he does finally decide to leave Dortmund. Arsenal, Manchester United and Chelsea will just hope that he decides that a move to the Premier League is the best for his career.