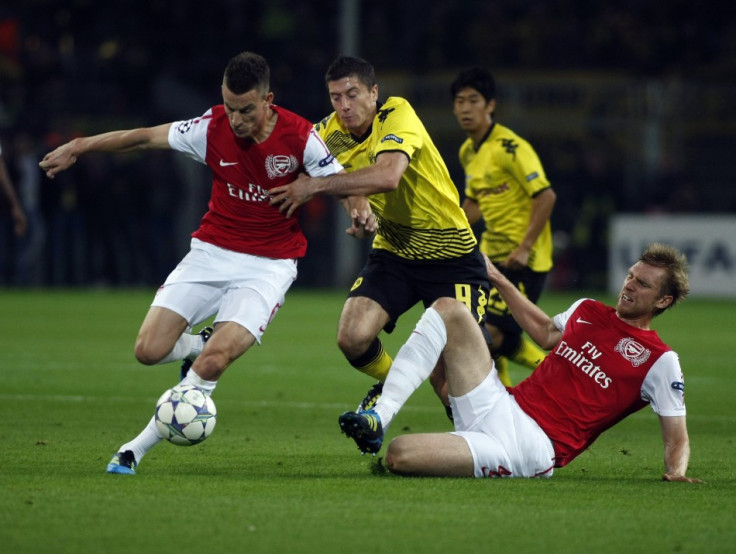 Arsenal summer signing Per Mertesacker insists that the club's defensive line up are becoming stronger and more consistent, as the club climb back up the table and into Champions League contention.
After losing Samir Nasri and Cesc Fabregas in the summer transfer window and then being thrashed 8-2 by Manchester United, Arsene Wenger worked overtime on deadline day to make five purchases and spend around £15 million on defensive signings Andre Santos and Mertesacker.
Neither had come from English footballing backgrounds, with Santos making the move from Turkish side Fenerbahce and Mertesacker coming from the Bundesliga.
But Wenger has insisted that both will adjust to the Premier League if given time, and after suffering their most disappointing start to the season in over 50 years, Arsenal are now two points away from fourth placed Chelsea, and have conceded just two goals in their last four league games.
And Mertesacker believes that the faith Wenger showed in his new signings, along with Thomas Vermealen and Laurent Koscielny, is now starting to be repaid as the side work together to challenge for top honours.
"We try our best in every match," he told the club's official website.
"We didn't have a pre-season together and we have had to get our form together and trust each other in the games.
"We are in the last 16 in the Champions League and are in a good position in the Premier League and we want to keep on going like that.
"At the beginning [of Saturday's game], Wigan tried to close us down a lot and it was very difficult for us.
"They had a good tempo and a good speed in their game. Therefore we were careful and did a great job in the final third."
Arsenal now prepare to face Olympiakos in their last Champions League group stage match, though the north London side will likely field a weakened team, after the Gunners secured the top spot in the table after winning their last match.
In the league, Arsenal face Everton at home, followed by a showdown with title leaders Manchester City that will give the side a chance to show just how serious they are about winning their first trophy in over six years.