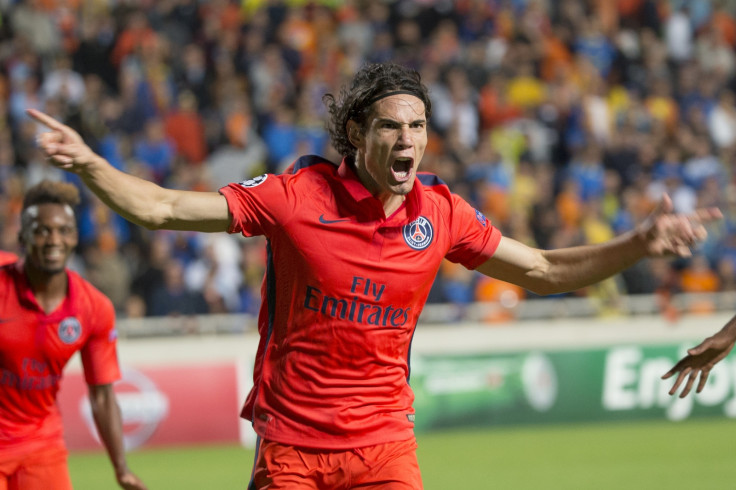 Arsenal have been handed a massive boost in their bid to sign Edinson Cavani after the star striker dropped a hint that he could leave Paris Saint-Germain.
The Uruguayan international has been a transfer target for the north London club as the Gunners manager is weighing in a £45m bid in bringing him to the Emirates. In addition to this, their league rivals Manchester United are also in the race in securing Cavani's services.
The 27-year-old was suspended for three matches after he missed the Ligue 1 winners' training camp in Qatar. The former Napoli star returned to the team as he scored his side's fourth goal after coming from the bench during PSG's 4-2 victory over Evian.
Cavani admitted that he is happy Parc des Princes, but also conceded that in football anything can happen, suggesting that a move away from his current employers can be on the cards.
"Future? I just finished my contract. I'm [in] one of the best teams in the world, there are great players and a great project. I am proud, but in football you never know what can happen. What I can say here is that I'm fine," Cavani told Uruguayan publication Ovacion.
"I'm happy to be playing again and hopefully everything continues to go well beyond the negative part we had."
"There were problems with my flight, but mostly it was my decision and I knew I could have consequences. I wanted to spend [time] with my family. I have already paid the price and I think I am still paying. Sometimes decisions are made well and I hope the bad time passes quickly. I was wrong and I paid for it," he added.
Cavani's club teammate Ezequiel Lavezzi has been linked with a move away from the French champions, with Liverpool firmly believed to be interested in signing the Argentine international in the ongoing transfer window.
However, PSG manager Laurent Blanc has put the recent speculations linking Cavani and Lavezzi away from Parc des Princes to bed.
"They're talented players. To achieve our objectives, we are going to need them," Blanc said, as quoted by ESPN.