Carl Jenkinson has always been an Arsenal fan, and when the former Charlton star secured a move to the club last summer, it was a dream come true as he made the move to the Emirates.
At just 20 years of age, the youngster now has 12 appearances under his belt for the Gunners, and has undergone some steep learning curves, including receiving a red card in just his fourth game against a rampant Manchester United.
But he has also been a part of some of the club's highs of the season, such as defeating Tottenham 5-2 in the north London derby, and now that he's firmly entrenched in the Arsenal squad, the right-back admits to getting a lot of nostalgia when he sees and hears of Gunners legends' names.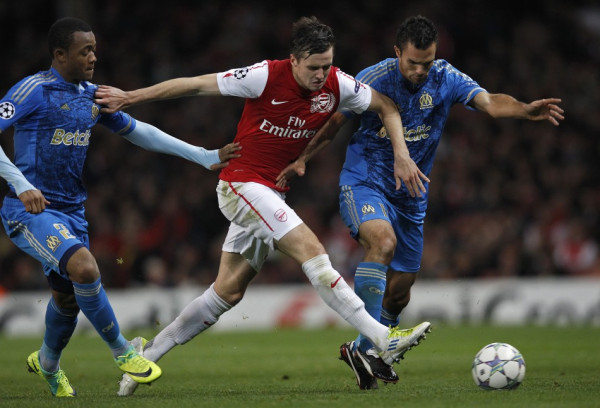 "From as far back as I can remember it was always Arsenal in the house and in the family, it was just the way it was," he told the Arsenal website.
"Going to a game would be a special treat. If I had done well at school or something, Dad would tell us he was taking us to a game and it was great. It was probably four or five times a season.
"I remember watching Lauren especially, because he played my position, and the goals - I remember Henry's backheel against Charlton, against my old mate Jonathan Fortune, like it was yesterday.
"I remember Robin's goal against Blackburn from a tight angle too. I played there actually for Charlton youth against Arsenal in a friendly when I was 14. Jack Wilshere was playing for Arsenal that day but we beat them 4-2 I think."
At the beginning of the month, the Daily Mail revealed the Gunners man's bedroom, with Arsenal posters and merchandise filling the room from wall to wall. Check out Jenkinson's dedication to the team he supported as a child here.
And with Jenkinson's heart at Arsenal, and the Finland Under 21 international showing great potential for the club, he could well become a rare one-club man if he continues to show his skills for the club throughout seasons to come.