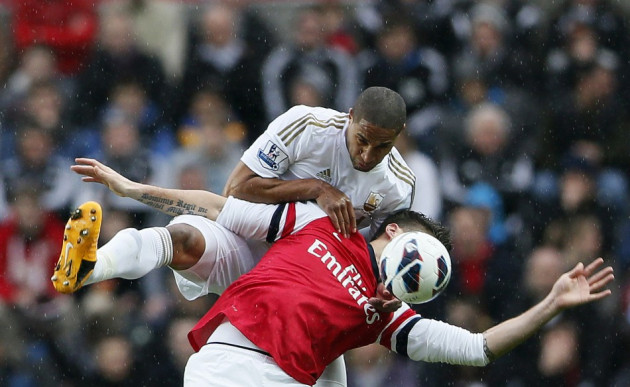 Ashley Williams has admitted he is flattered by talk of a move to Arsenal as the Swansea defender considers a possible move this summer.
Williams has long been connected with a move to the Emirates after another oustanding year for Swansea as he captained the club to their first ever piece of silverware and provided stability in the backline.
Arsene Wenger has long struggled with his defensive line-up and the side's inconsistencies at the start of the season nearly cost them a top four spot for the first time in the manager's reign.
And now Williams has revealed he would be open to a move away from Swansea if the right offer came up, telling Sky Sports: "It means you're doing something right and people are talking about you at least.
"I take it as a compliment. I don't really read the papers and that type of thing. You don't really know, as that's the future, and I can't really say. Different circumstances determine different things.
"I'm working hard trying to talk things through with the squad and the manager on the field, and trying to iron out a few things for the season."
Should he stay at Swansea, Williams will have a chance to showcase his skills in Europe next season after Swansea qualified for the Europa League thanks to their League Cup triumph.
And he insists that though some Premier League teams haven't taken the second-tier tournament seriously, Swansea will be giving it their all.
He explained: "I don't know how you can go out there and not take it seriously. In terms of team selection, that's up to the gaffer, but if he's taking it seriously, then we all will.
"We'll just try and have a bit of fun and see where we can go with it. The League is our bread and butter, but any competition we're in we try and go as far as we can."