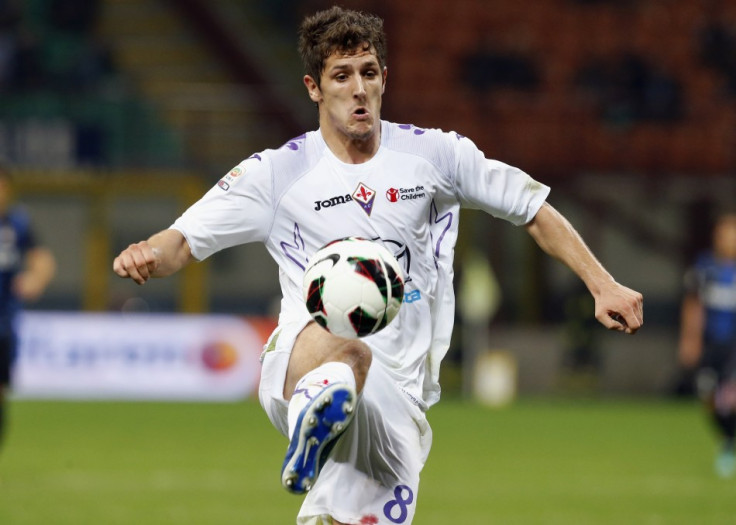 Arsenal and Manchester City are still in with a chance to sign Stevan Jovetic after Juventus admitted the striker is unlikely to sign for them due to a difficult relationship with Fiorentina.
Jovetic has long been on the Gunners' radar as Arsene Wenger looks to spend big this summer, and though Gonzalo Higuain has emerged as a top striking target for the Frenchman, contingency plans will be in place to try if the deal falls through for the Real Madrid star.
Meanwhile, Manchester City are also said to be looking at Jovetic as a replacement for Carlos Tevez, who has joined Juventus.
Juventus have made their interest in Jovetic public, with the Serie A champions looking to outbid both Arsenal and City for the Montenegro international, but now general director Giuseppe Marotta says that a move is unlikely as Fiorentina won't want to sell to one of their close rivals.
"A lot has been said about Jovetic but difficulties in our relationship has made any deal difficult," Moratta told Juve's official website.
"At the moment I don't think it will be possible, but a lot could happen between now and the beginning of September."
Jovetic scored 13 goals for Fiorentina in 31 appearances last season, with the 23 year old helping the side to a mid-table finish.
But with interest from clubs who can offer Champions League football, alongside an ambition to win trophies, he has reiterated his desire to leave the Italian outfit over the summer.
"Last summer president Andrea Della Valle told me to stay one more year and that at the end of the season, which is now, I would be allowed to leave if I wanted to," he said last month.
"I've been at Fiorentina since 2008, it has been five intense seasons.
"I'm young and ambitious and it is normal to want to test myself somewhere else. I don't see anything wrong with that."
Should Arsenal or City put in an official bid for the £25m-rated striker, Fiorentina would likely rather sell him to an English side than have him playing against them in the Serie A.