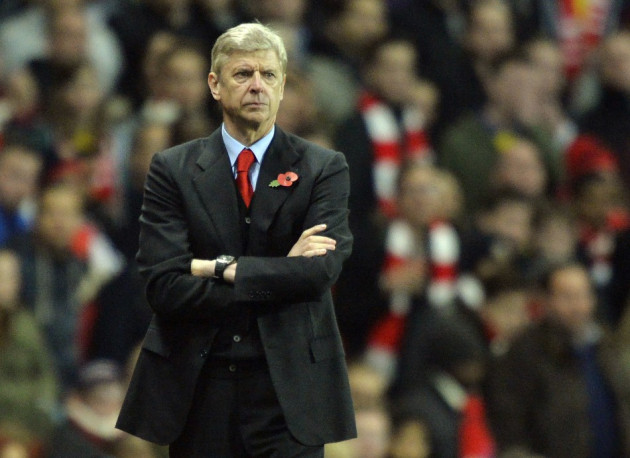 Former Arsenal midfielder Stuart Robson has advised manager Arsene Wenger to resist spending big in the January transfer window.
Victory over Liverpool sent Arsenal five points clear at the top of the Premier League after 10 games in a performance and result which delivered a significant message to their title rivals.
Olivier Giroud has been forced to lead the line domestically and in Europe for Arsenal this season, with Wenger not entrusting Nicklas Bendtner with regular first-team responsibility, and Robson says the club only need to add a forward in reserve.
"I've always felt the group have been good enough, my criticism has been of the manager himself, I don't think he's got the best out of the players he's had," Robson told talkSPORT.
"I think they [Arsenal] have got some great creative players, but I don't think they've been well organised enough defensively.
"You can't play the game when you just worry about the creative side and hopefully the defending will be better. So I don't think they need that many new players in January, though they probably need a second centre-forward who is going to come in, not to make them any better, but just in case Giroud gets injured.
"Bendtner has not been good enough, we know that and he's playing without any confidence, so we probably need another main striker. We can't get more creative midfield players because he's inundated with them at the moment."
Arsenal face Borussia Dortmund and Manchester United in the coming weeks in a further test of their improvement this season which has seen the likes of Aaron Ramsey and Mesut Ozil star throughout.
Goals from Santi Cazorla and Ramsey downed Brendan Rodgers' Liverpool at the Emirates in the perfect start to Arsenal's gruelling run of fixtures and Wenger has labelled the coming weeks as a defining period in the season.
"After the Aston Villa game, if I had told you that [this would happen] I would have to run away because you would have killed me," said Wenger.
"It shows you that things can change quickly but that should as well alert us that it can go the other way. We must keep good focus, continue to develop our team as there's room for improvement.
"At the moment, with 10 games played, you can say 25 per cent of the season [has gone]. You see the first tendencies and trends but it's still not settled.
"By the end of November you will have a clearer idea."