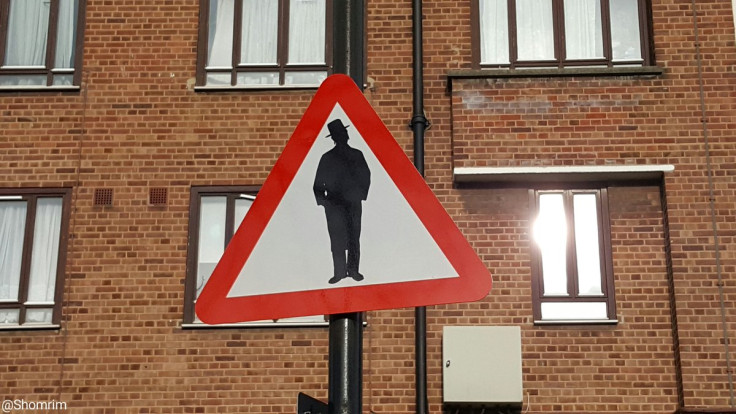 A street sign found in north London which appeared to warn the public to "Beware of Jews" was part of an artist's project on identity.
London-based photographer Franck Allais apologised for causing offence with his triangular "warning" sign, which showed a black silhouette of a Jewish man in traditional dress.
The sign was found attached to a lamppost in Stamford Hill, which has one of the largest Hasidic communities in Europe, and was reported to police as a hate crime.
But Allais said the sign was not an anti-Semitic statement, but instead part of an art project on identity which included other signs of a woman pulling a shopping trolley, a man pushing his wheelchair and a cat.
He told the Guardian: "It was a project about crossing the road ... how everyone is different, everyone has an identity. There is not only one sign in the street. I put more signs up in the street, but only this one got noticed. I am sorry for any offence caused."
Allais, a freelance photographer who has worked for major news outlets including Newsweek, The Telegraph and the Guardian, said he created the signs based on real people he saw crossing the road.
The sign of the Jewish man had been reported to the Met Police and Hackney Council by Shomrim, a Jewish neighbourhood watch group, which believed it may have been erected by an individual or group with anti-Semitic views.
Barry Bard, a supervisor at Stamford Hill Shomrim, had told Press Association: "The people of Stamford Hill are very sadly used to instances of anti-Semitic hate crime, but most of those times it will be verbal abuse or even assault.
"A lot of the time it will be more of a person-to-person kind of thing, or graffiti, which is more unprofessional. The person who planned (this sign) has obviously gone to an effort to cause alarm and distress to local people."
The sign had also drawn condemnation from Diane Abbott, Labour MP for Hackney North and Stoke Newington, who branded it "disgusting" and "unacceptable".
David Lammy, Labour MP for Tottenham, also criticised the sign over social media. "Despicable, nasty behaviour that has absolutely no place in our community," he wrote on Twitter.
The number of anti-Semitic incidents in the UK rose by more than a third to record levels in 2016, according to data released by the Community Security Trust (CST).
The body recorded 1,309 incidents of anti-Jewish hate last year, compared with 960 in 2015, a rise of 36%.