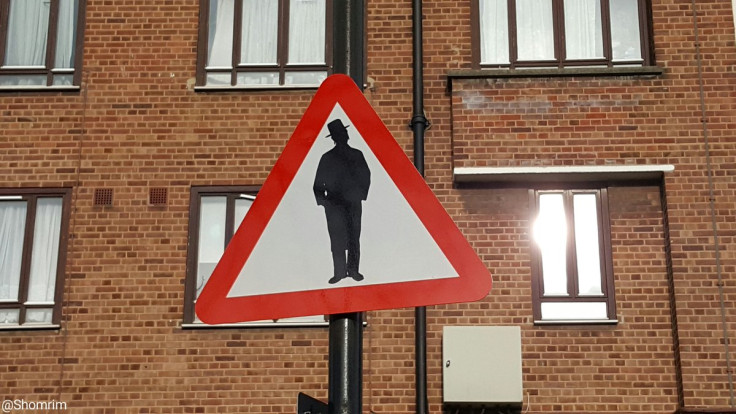 An anti-Semitic road sign warning about the presence of Jews has been discovered in north London on Tuesday (14 March).
The triangular sign, resembling official government road signs warning of speed bumps and pedestrian crossings, featured a silhouette of a Jewish man in traditional dress with a red border around it.
It was discovered attached to a lamppost in Stamford Hill, which contains one of the largest populations of Orthodox Jews in Europe.
Shomrim, a Jewish neighbourhood watch group, said it has reported the sign to London Metropolitan Police and Hackney Council.
Barry Bard, a supervisor at Stamford Hill Shomrim, told PA the incident was the first known sighting of such a sign, which had caused distress due to its meticulous planning.
"The people of Stamford Hill are very sadly used to instances of anti-Semitic hate crime, but most of those times it will be verbal abuse or even assault," he said.
"A lot of the time it will be more of a person-to-person kind of thing, or graffiti, which is more unprofessional. The person who planned (this sign) has obviously gone to an effort to cause alarm and distress to local people."
Diane Abbott, Labour MP for Hackney North and Stoke Newington, branded the sign "disgusting" and "unacceptable" on Twitter.
David Lammy, Labour MP for Tottenham, also criticised the sign over social media.
"Despicable, nasty behaviour that has absolutely no place in our community," he said.
The sign appeared as Jewish people concluded their street celebrations of Purim, the ancient festival in which children dressed up and celebrated with family and friends.
The provocation comes shortly after Shomrim released its findings of a month-long study into anti-Semitic attacks inflicted upon Orthodox Jews living in the Stamford Hill area.
It said at least one anti-Semitic attack took place every day with 32 total incidents reported during the course of the survey.
London Mayor Sadiq Khan pledged to improve the relationship between police and the neighbourhood watch group to tackle such hate crime following the report.