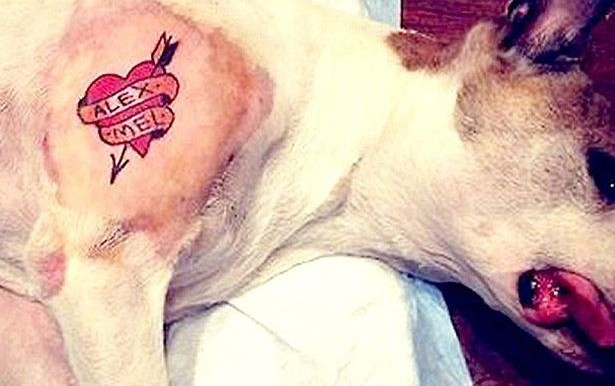 A tattoo artist has been criticised by animal rights groups after he tattooed a love heart on his pet dog while it was under anaesthetic.
The artist, who goes by the name Mistah Metro, uploaded the photograph on to his instagram page. He had inked his hound with a heart-shaped tattoo and the names Alex and Mel on the animal's shoulder.
Alex is thought to be the name of Metro's wife, while Mel is a friend of his.
The dog was out cold following surgery when he tattooed it.
The caption alongside the photograph read: "One of the many reasons my dog is cooler than yours!
"She had her spleen removed today and the vet let me tattoo her while she was under."
The photo was uploaded to website Gothamist but was swiftly taken down after it received numerous complaints.
Although it is not illegal to tattoo a dog and the process sometimes takes place for identification purposes, animal rights groups have condemned Metro's actions.
"Tattooing an animal for the vain sake of joy and entertainment of the owner without any regard for the well-being of the animal is not something the [American Society for the Prevention of Cruelty to Animals] supports," said a spokesman.
Animal welfare scientist Emily Patterson-Kane, of the American Veterinary Medical Association, added: "We can't say a tattoo is going to do enormous damage to an animal, but we do look at whether a procedure is therapeutically necessary first."
Chris Torress, who starred in the US reality TV show NY Ink and owns the Red Legged Devil tattoo parlour where Metro works, was quick to distance himself from the incident.
"The dog wasn't tattooed at the shop. What [employees] do on their own time isn't my business," he said.