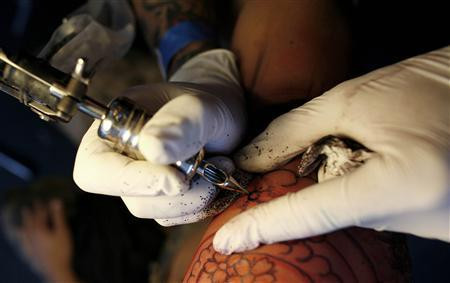 A man has been jailed for encouraging a tattooist to etch a 40cm (16ins) penis on an unwitting man's back.
Australian Christopher William Lord, 23, had been drinking rum at his friend Matthew Francis Brady's house when the pair convinced the victim to let Brady tattoo him.
The un-named man, who suffered from a disability, agreed to have a yin and yang synmbol with a dragon and tiger tattooed on his back and went to another bedroom to have it done.
The victim, however, had no idea that the inking he was receiving was of a huge phallus complete with testicles and an obscene phrase under it.
Lord was sentenced last week, three years after the offence, to 12 months imprisonment after pleading guilty to assault occasioning bodily harm while armed and in company.
Judge Greg Koppenol said: "It was a miserable offence. You acted miserably towards a vulnerable young man with a significant disability."
Tattooist Brady was jailed in 2011 for the October 2010 assault.