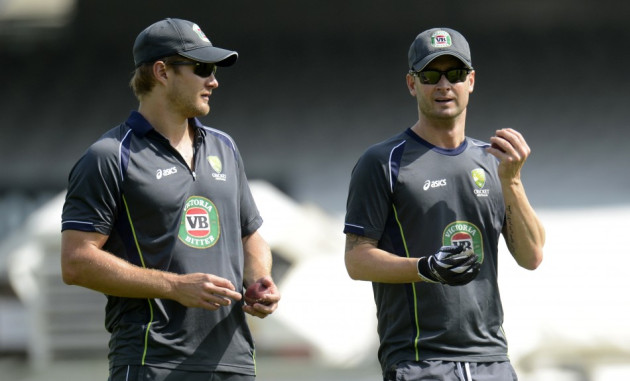 Australia captain Michael Clarke described teammate Shane Watson as a 'cancer' on the team, according to documents filed by former coach Mickey Arthur in his £2.44m claim against Cricket Australia.
The South African, who was contracted until June 2015, was unceremoniously sacked as head coach of Australia just 16 days before the start of the Ashes series and was replaced by Darren Lehmann.
Now Arthur has revealed details that are sure to unsettle the Australian players as they prepare for the second Test against England at Lord's starting on Thursday.
He has reportedly detailed some of the dressing room problems that marred his spell in charge of Australia and led to him internally suspending four players while on the tour of India.
Both Arthur and Clarke questioned the attitude of the banned players, which included then vice-captain Watson, while David Warner was banned after he punched England's Joe Root in a Birmingham bar during the ICC Champions Trophy.
As well as claiming that Watson and Clarke were at loggerheads and releasing details of their relationship, Arthur also believes that he was discriminated against because he is South African.
While there was no comment from Arthur, Cricket Australia's lawyer Dean Kino responded to the 45 year old's claims.
"We're disappointed that it's come to this position," said Kino. "But Cricket Australia's confident in its position on this matter. And I'm sure it'll get resolved in the appropriate fashion."
Arthur was blamed for Australia's poor performances in the build-up to the Ashes and subsequently lost his job to Lehmann who received plenty of praise for leading the side to a closely fought loss against England in the opening Test at Trent Bridge.
However, with the second Test just a matter of days away, the comments of Arthur will surely be detrimental to the Australian players who appeared unified in the first Test after some troubled few months under the South African.