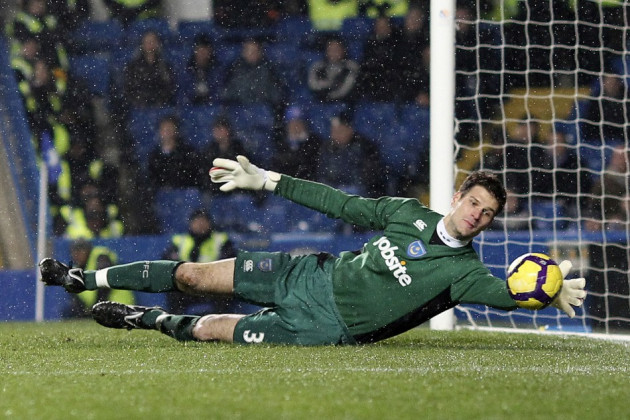 Stoke City goalkeeper Asmir Begovic admits he is unlikely to leave the club before the end of the season as he continues to be linked with moves to Arsenal and Manchester City.
The Bosnian international's stock in the Premier League has grown throughout the opening months of the season with a string of excellent performances that has seen his long-term future at the Britannia Stadium come under question.
While a move to one of the Premier League's leading sides could soon be on the cards, the former Portsmouth shot stopper has since revealed he has already turned down a move to one of the division's elite in Manchester City, a move that fell apart after Roberto Mancini parted ways with the club at the end of last season.
But with first team football a priority given Bosnia's participation in the World Cup next summer, Begovic is in no rush to leave Mark Hughes' side.
"I do not know if there are any negotiations and at what stage they are at. The media, they might know more than me," Begovic told Dnevi Avaz.
"But now I'm firmly attached to Stoke. For me, perhaps the best option is to stay there until the end of the championship so I can prepare for the World Cup in Brazil."
Both Manchester United and Arsenal have been credited with interest in the goalkeeper, but had things transpired differently earlier this year Begovic might have already been amongst the teams challenging at the summit of the league.
"When Mancini was there, I was very close to joining Manchester City," he continued.
"Often, players are the last to know of certain negotiations. Agents and managers are often the more knowledgeable of the parties concerned.
"But the transfer to Manchester City was shelved for a number of reasons, the main one being the Italian coach's exit."
Begovic's impressive start to the season was marked in spectacular fashion when the goalkeeper opened the scoring for Stoke in the first minute of their weekend draw with Southampton, a feat that also made him the club's joint top scorer this season.