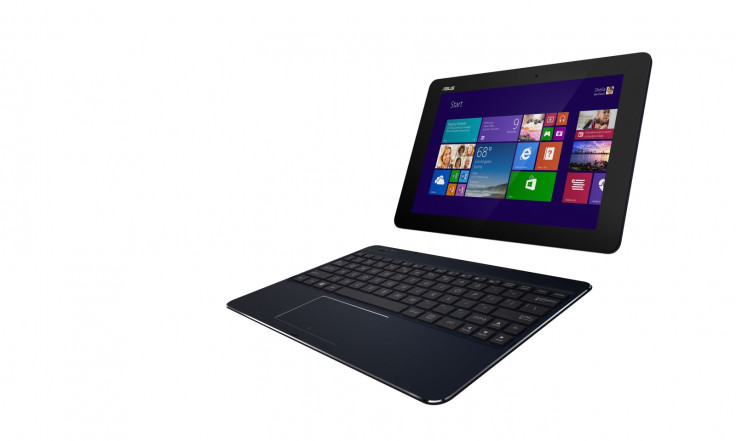 If you have multiple devices and are looking to cut down on the amount of stuff you're carrying around, but you still really enjoy using both your laptop and tablet, a hybrid laptop that can transform into a tablet might be the answer.
The tablet market is starting to get saturated and sales are shrinking as people tend to use their tablets for longer, or aren't even using them, because their phablets do the job just fine.
Asus has been producing laptop tablet hybrids since 2011, and its latest addition, the Asus Transformer Book T300 Chi could easily be mistaken for a laptop, unlike Microsoft's Surface Pro 3, which is clearly a tablet attached to a keyboard.
The T300 Chi is available in two versions – a higher end model with 8GB of RAM, a super-high resolution of 235ppi that is supposedly sharper than the MacBook Air that retails for £799.99 in the UK, and a lower end version featuring 4GB of RAM and a full HD display with 176ppi that retails at £669.99.
Both models are powered by the Intel Atom Z3775 processor and run Windows 8.1, and IBTimes UK reviewed the lower end model.
But how does a hybrid laptop compare against a regular laptop or a tablet? Let's find out.
Asus Transformer Book T300 Chi: Design and Portability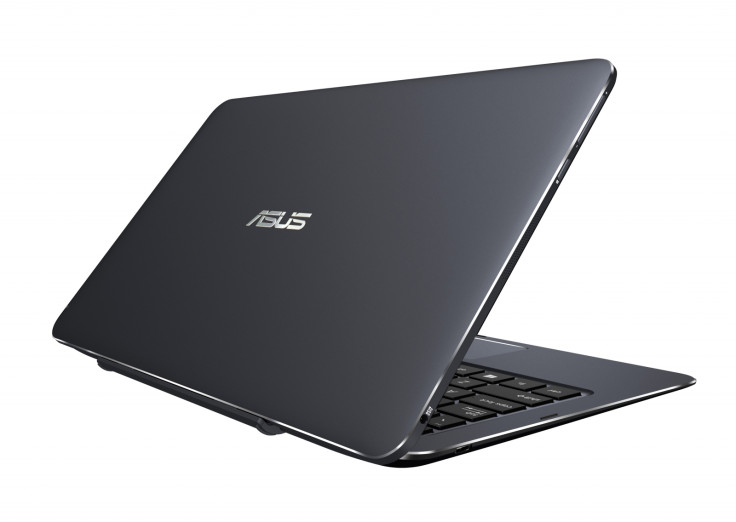 The T300 Chi is a very sleek machine – on first impression it looks like a small and very smart ultrabook laptop that's handy for a business trip where you need to work a lot on the go.
Featuring a matte metallic dark blue finish with chrome edging and chamfered edges, the T300 Chi feels like a premium top-of-the-range laptop. I love that it's thin – Asus says it's thinner than the MacBook Air – and its size is great for portability, and its keyboard feels firm and comfortable like a proper keyboard, rather than one that's tacked onto a tablet.
However, opening the T300 Chi can be a bit of a challenge as there is no cutaway or grip to help you. Most of the weight of the device is contained within the tablet screen, so it definitely feels top heavy, particularly when you're trying to balance it on your lap rather than use it on a table.
The laptop lid also stains quite easily when carried in a bag, so you're going to need to get a protective lid.
The ports and buttons are mostly conveniently positioned, except for the mini-USB 3.0 port, which is high on the right side of the screen.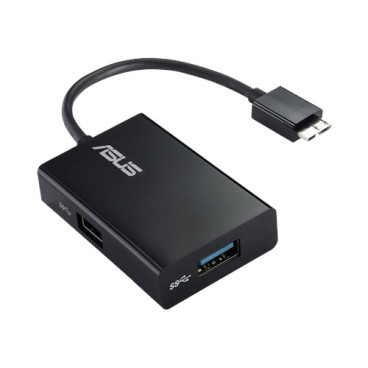 In order to use USB memory sticks, you need to plug in an adaptor which comes with two full-sized USB ports, but the adaptor is then hanging in the air with your memory stick, which is awkward and makes me worry about damaging my memory sticks or having a faulty connection, although during tests it worked fine.
It would have been preferable to have a full-sized USB port in the keyboard, or to put the mini-USB port at the bottom end of the screen close to where it rests on the desk.
The T300 Chi also only features a front-facing camera. I suppose that makes sense since it's a laptop and you'd only need the camera for a video call.
But since it's also meant to be a tablet, wouldn't a back-facing camera make sense? After all, the one thing you often see people doing with their iPads in public is holding it in the air to take group photos or photograph a landmark, which isn't possible here.
Asus Transformer Book T300 Chi: Screen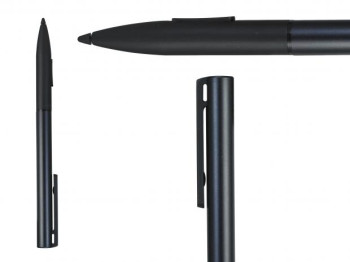 The T300 Chi has a 12.5in screen with a resolution of 1920 x 1080, which is just slightly higher than full HD. Videos and computer graphics both display very clearly and in great detail, and the colours are very clear and bright with the 176ppi resolution.
The glossy screen is a departure from regular laptops and is quite reflective, which can sometimes be distracting if you're trying to work in a location with a lot of natural light, but on the plus side, the touchscreen is very responsive to the touch.
The included stylus is also very convenient if you don't want to use your fingertips and the screen instantly responds to it, allowing users to highlight text, press buttons and navigate between metro apps and the Windows 8.1 desktop.
Asus Transformer Book T300 Chi: Keyboard and trackpad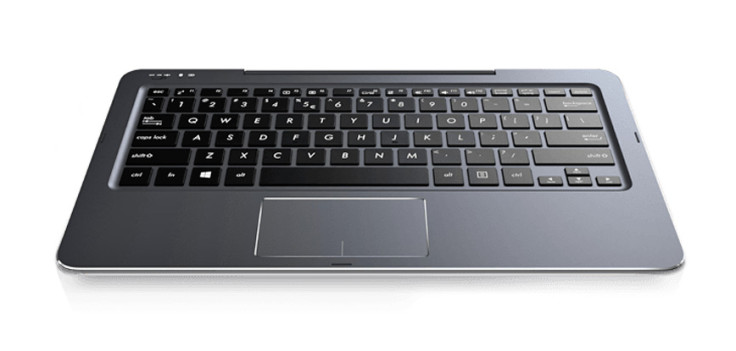 The keyboard for the T300 Chi might be thin, but it is firm and easy to use. The keyboard is thicker and heavier than the Surface Pro 3 and other hybrid laptops, but this is not a bad thing. The keyboard is more comfortable to use and feels sturdy like a keyboard on a regular laptop.
The trackpad is responsive sometimes, but other times you have to swipe it several times with your fingers in order to get a reaction. While this could indicate that the trackpad isn't that responsive, I have the same problem with my HP laptop running Windows 8.1, so it could be an operating system issue rather than a hardware issue.
Asus Transformer Book T300 Chi: Performance & battery life
As I reviewed the lower end model, it featured 4GB of RAM and 128GB of storage. The laptop offers quite a fast performance and is able to handle videos, computer games, browsing the web in multiple Chrome tabs and using metro apps on in the background as well.
I was also quite impressed by the sound on the T300 Chi, which was quite loud and with clear-sounding audio.
However the battery life isn't very good. Asus says that the T300 Chi has a battery life of up to eight hours, but my experience was that the laptop drains of power in less than four hours.
I also worry about the amount of heat coming out of the back of the tablet screen, although I suppose the benefit is that you're never going to burn your knees.
The T300 Chi comes with 802.11 ac Wi-Fi, and I have to admit that downloads were quite fast, but the antenna was definitely not as strong in terms of picking up Wi-Fi signal as a MacBook Air.
Asus Transformer Book T300 Chi: Value and Verdict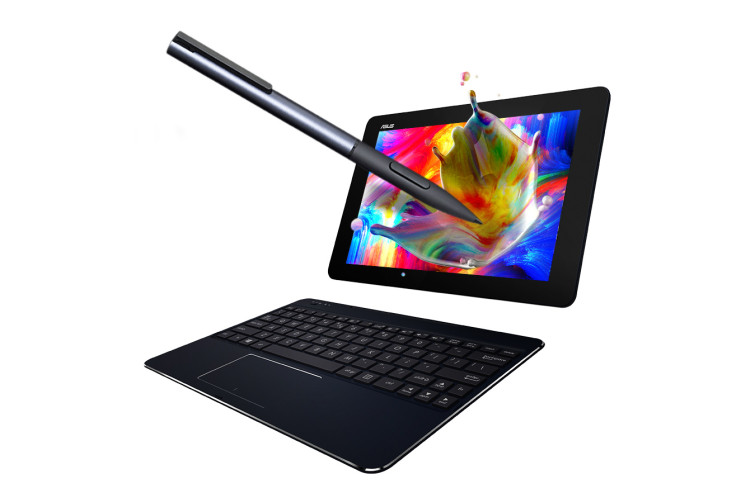 Overall, as a hybrid laptop the T300 Chi doesn't perform badly when compared to a regular laptop, but compared to the much higher specs you can get for a regular laptop at the same price, it falls short on value.
Asus has been touting the T300 Chi as being thinner than the MacBook Air. This might be true by about 0.3mm, and it certainly has an impressive screen, but the battery life is disappointing, the USB adaptor is awkward to use and the device can feel top heavy and not easy to balance on your lap on the go.
For the same amount of money, it might be more prudent to invest in a regular laptop or pay a bit more for another competing model like the Surface Pro 3.