Asus Transformer Book Chi T100 review: A Windows 8 tablet to replace your laptop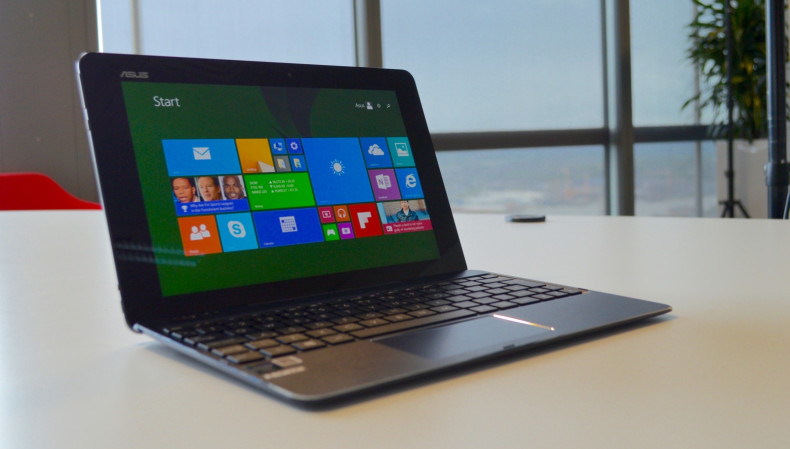 Asus Transformer Book Chi T100 Key Features
10.1in screen with 1920 x 1200 resolution
Windows 8.1
Included dock with keyboard and trackpad
64GB storage, plus microSD card slot
Intel quad-core processor
Price as reviewed: £399
Asus has been a leader in the market for two-in-one laptop/tablet hybrids since its first Transformers arrived in 2011 running Android.
The latest addition to the family, the Transformer Book Chi T100, has a 10.1in screen, runs Windows 8, and has a Bluetooth keyboard with the company's simplest docking system yet.
Can the T100 Chi replace your laptop, your tablet, or both?
Asus Transformer Book Chi T100: Look and Feel
Coming from a company whose name begins with 'A' but doesn't end in 'pple', the Chi T100 has surprisingly good design and build quality. The all-metal body has a premium sense of quality which makes the tablet feel like it's worth more than the £399 Asus is charging for the 64GB model you see here.
I'm a big fan of the deep blue finish paired with chrome details around its chamfered edges. This does enough to make the Asus stand out in a saturated market and offers a sense of quality almost on par with the Apple iPad Air. Matching colours and materials on the keyboard dock complete the classy look.
Hardly surprising for a two-in-one, the T100 Chi is fairly thick (but not overly so) at around 20mm at its thickest, and the total weight of 1kg makes it hefty but not cumbersome - at least when compared to a laptop.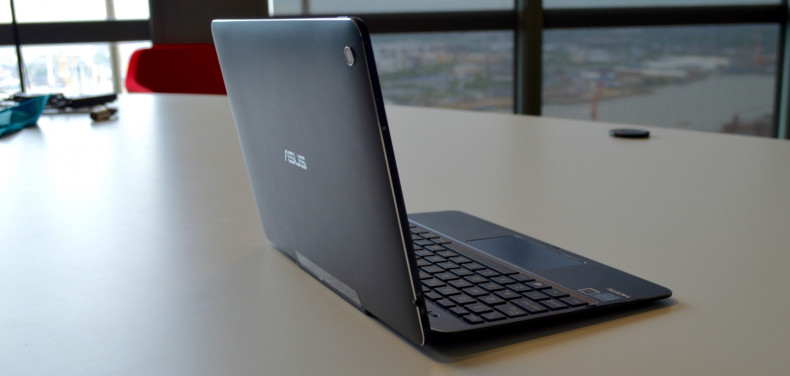 The only problem with the Chi's weight is where it's located. Because the tablet weighs more than the keyboard dock, it's top-heavy and feels like it's going to tip backwards when sat on your lap. This top-heaviness also means the front-right rubber foot is lifted off the desk when the screen is fully reclined, making it tap annoyingly as you rest on it and type.
A final note on the Chi's design; where laptops have a cutaway in the lid or base to help you open them, this does not, so peeling it open is actually a bit of a pain.
Asus Transformer Book Chi T100: Keyboard dock
The dock has the same dark blue metal finish with chrome chamfered edges as the tablet, giving it a beautifully premium look. The good news continues with the keys because, although their small size takes some getting used to, they offer loads of travel, click nicely without feeling spongy, are spaced well, and the layout includes every function key you would expect from a laptop.
Asus has done a good job on the keyboard, and once you've got used to the size of the keys you'll forget this is a tablet - especially when you're typing away on a full-screen Word document. But the laptop experience stumbles when you reach for the trackpad; although it's smooth and quick to glide your finger across, it is very small by laptop standards and can be inconsistent. Two-finger scrolling sometimes quickly zips you down the page, but other times it produces a small, jumpy movement.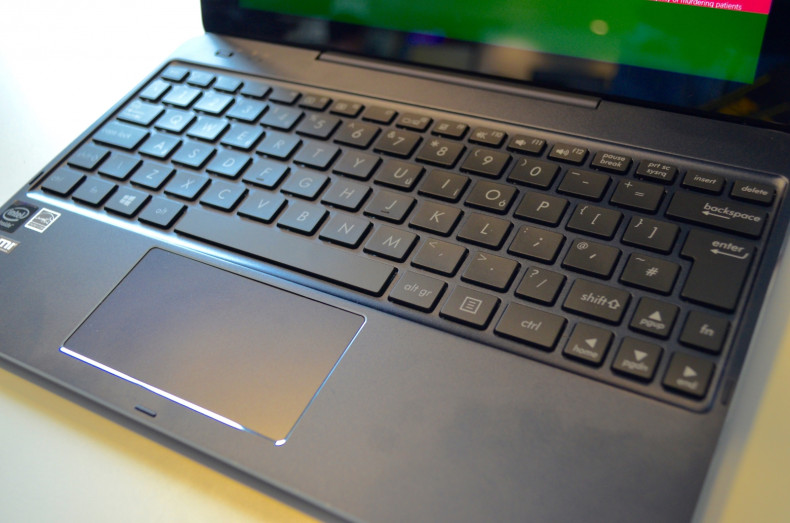 Unlike previous Asus Transformers, the keyboard dock does not power the tablet and therefore doesn't act as a second battery. Instead, the connection is merely a magnetic one, with each half powering itself. Because of this, the keyboard also fails to bring any extra connectivity, save for a single microUSB port for charging, which you'll need to do every few weeks.
Asus Transformer Book Chi T100: Screen
The Chi's 10.1in screen has a resolution of 1920 x 1200, making it slightly higher than Full HD. The screen aspect ratio of 16:10 gives it more sensible proportions than most other 10in tablets - it's especially useful to have those extra pixels when viewing websites in landscape. The display is sharp and crisp with good viewing angles, but isn't particularly bright and suffers from glare and reflections when used outside or opposite a window.
The screen responds quickly to your touch, but that can't always be said for the tablet generally, as often it would take several prods of the keyboard/trackpad/screen and a few seconds of waiting before there were signs of life. Not a deal-breaker, but not the instant-on we've come to expect from tablets.
Asus Transformer Book Chi T100: Software and performance
With Windows RT retired for good by Microsoft, affordable tablets like the Asus Chi T100 are now coming with the full version of Windows 8.1. This means you get the tiled, touch screen-friendly interface on one side of the operating system, and a familiar mouse- and keyboard-friendly traditional desktop on the other.
The latter can still be swiped, touched and prodded if you prefer, but as with all Windows tablets with HD screens, some icons end up being tiny. The trackpad helps here, but as I explained above, it isn't perfect. The included battery-powered stylus helps here for tapping at smaller links, and its inclusion in the £400 price adds a professional feel to the Chi T100, even if there are few uses for it out of the box.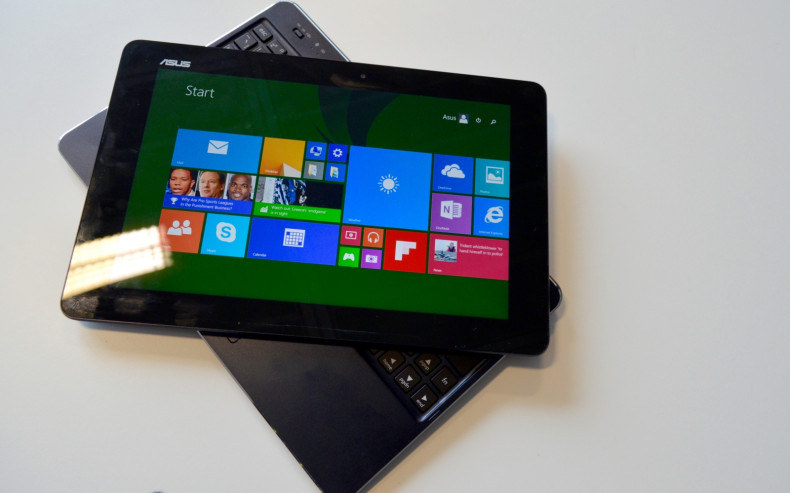 The quad-core Intel Bay Trail processor is respectable enough for a tablet, but can't quite cut it when the Asus is relied upon as a laptop replacement. Editing Word documents, listening to music and watching YouTube videos while browsing with a handful of tabs open is fine, but push it much further and you're quickly reminded of the limitations of a mobile processor and 2GB of RAM.
There's 64GB of storage, which is four times more than the equivalently priced iPad Air 2, and unlike the Apple tablet, the Asus has a microSD card slot to increase this further. Asus claims of all-day battery life are justified, as eight hours of continuous use is possible without being too careful; however, I noticed the Chi T100 lost a lot of charge while asleep each night.
Asus Transformer Book Chi T100: Verdict
Calling the Chi T100 a laptop replacement depends entirely on what you already use your laptop for. If you're a power user then the answer is absolutely not - but for light users who don't demand too much more than the basics and are happy with a small screen, then it could be the all-in-one for you.
The hardware is very attractive, having full Windows on a small device is more useful than a hindrance, and the keyboard and trackpad feel closer to a laptop than many third-party alternatives - and better than some iPad docks, too.
I doubt many people could use the Asus Chi T100 as their only device, replacing both tablet and laptop, but for those who have a larger laptop at home or in the office, this makes for a compelling commuter tool.
Scores:
Design: 8/10 - Premium looking tablet with matching dock. Closer to laptop than tablet.
Build Quality: 8/10 - Feels very well made and dock connects securely with little flex.
Screen: 7/10 - Plenty of pixels, but not bright enough compared to a proper laptop.
Performance: 6/10 - Fine for basic actions, but quickly reminds you of its limitations when used as a laptop.
Overall: 7/10 - A respectable Windows 8.1 tablet with great design and build quality, at a good price, and with a usable keyboard dock. It's just not a true laptop replacement.
The Good:
Design.
Build quality.
Windows 8 well suited to tablet and laptop uses.
The Bad:
Dock needs to be charged separately.
A pain to open.
Can be slow to wake up.