A few days ago, Asus promised owners of the Transformer TF201 Prime an "awesome" update, and that update is now rolling out, but how "awesome" it is remains to be seen.
The Asus Transformer Prime is one of the best-selling Android tablets, featuring a Tegra 3 quad-core processor and the unique keyboard dock. It initially launched with Android 3.0 (Honeycomb) but has long since been updated with Android 4.0 (Ice Cream Sandwich).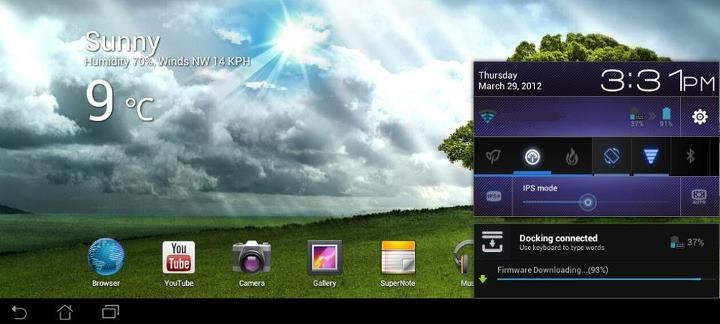 The latest firmware update is 9.4.2.21 and has a build date of 23 March. Asus promised a number of UI tweaks and additional features in the build-up to the release, with Asus Italy promising a face unlock feature which was first seen on the Samsung Galaxy Nexus.
However, early reports from those who have received the update say the face unlock feature is nowhere to be seen.
Among the features which have been included is the ability to manage notifications from your lock screen, an update to the Vibe content portal and player that offers a new UI and more services, as well as improvements to the HDMI output of the tablet - allowing you to display in portrait mode.
It is also now possible to lock the notification bar whilst in an app, preventing a stray finger press causing you to leave your game, and there's support for Ethernet networking, achieved via a USB converter. Users will also see updates Google apps, which reflect the change to the Google Play brand.
While the update is not revolutionary, it does show that Asus is committed to keeping the tablet up-to-date and if only all Android tablets and smartphones were updated as regularly and in such a timely fashion, then it would lead to many less frustrated Android customers.