Asus has released the long-awaited Android Lollipop upgrade for the ZenFone 4 smartphone. Based on Android version 5.0, the over-the-air update brings software version 7.3.3.
Ensure that your phone is updated to software version 6.3.3 to get the new software version. Upon installation of the OTA, you should notice the following changes;
Firmware details
Model: Asus ZenFone 4
Model number: T00I
Software version: 7.3.3 (Android 5.0 Lollipop)
Changelog
The listed apps will be removed once Android 5.0 Lollipop upgrade is complete.
Battery gadgets
Google Text-to-Speech
Movie studio
New apps will be added in this system upgrade.
Trip advisor
Gameloft
ClearMaster
Zinio
ASUS Auto-start Service Manager:
Prevent unwanted apps from automatically starting up and using RAM
Stop services immediately and prevent Android from restarting these apps again
Add Assistance in ASUS Help
Support bug reporting mechanism?
Enable Push notification service
Add unread count badge
Add new item reminders for articles
Support Google Analytics mechanism
Please note some feature changes in this system upgrade.
Lockscreen: remove standalone wallpaper & weather info
Dialler/Contacts: reduce tab count from 5 to 3; remove group tab name/photo
InCall screen: remove inCall animation & cover
Quick settings/Recent app layout change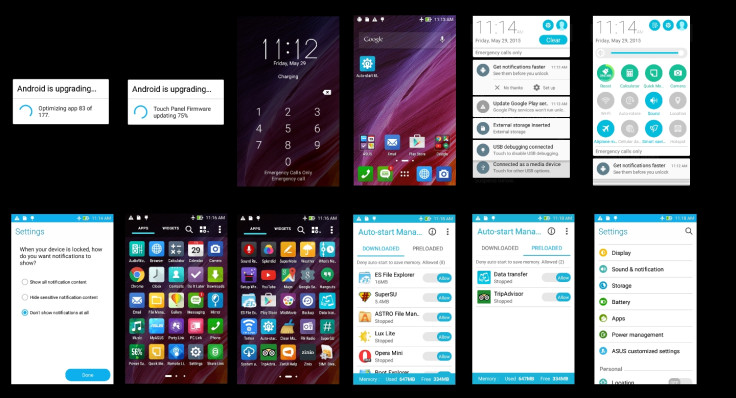 Check out our step-by-step guide to download and install Android Lollipop on the ZenFone 4. Do not forget to create a backup of your current phone set-up and check the model number of your phone; it should be T00I. Installing incorrect firmware will brick the device.
How to install software v7.3.3 (Android 5.0 Lollipop) on ZenFone 4
Step-1: Download Android 5.0 Lollipop OTA update for ZenFone 4 T00I
Download link: UL-ASUS_T00I-WW-7.3.3.0-user.zip
Step-2: Connect the phone to the computer using USB cable then transfer the downloaded file to the storage of the phone; internal or, external, both works
Step-3: Disconnect the phone from the computer
Step-4: Wait for a few time, you should see a notification at the notification bar
Step-5: Now apply the update and you are done
Note: If the phone does not recognise the update automatically, go to Settings and check the software update. If this also fails, then reboot the phone and try the process again.
The phone will enter recovery mode and install the update on ZenFone. When the update is complete, the phone will restart automatically. Go to Settings>> About phone to check the new software version 7.3.3.
Troubleshoot
As it takes a lot of time to boot (around 10-20 mins) , do not think your phone has gone into a bootloop, its normal .
But if it takes more than the usual time to boot , factory reset the device from Droidboot (fastboot) and then reboot.
Factory reset the device after the first boot if you want to have a pure bug-free lollipop since it is a completely different image from kitkat .
Source: Asus