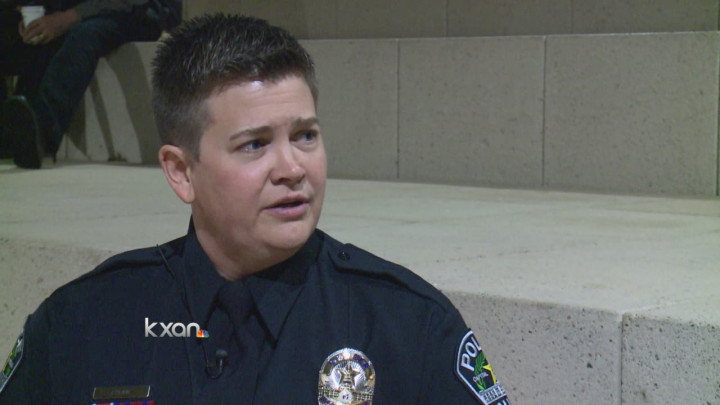 The Austin police department has its first openly transgender serving officer, Greg Abbink, who joined the force a decade ago as a woman.
"So, for about 10 years, the folks here in this department that know me have known me as Emily," Officer Abbink told KXAN News.
"I'm Greg now," the cop added, "and so that's been interesting for folks to have to make that transition."
On Thursday, people gathered for the Transgender Day of Rememberance. Every year, a representative from Austin's Lesbian and Gay Police Officers Association is chosen as one of its speakers. This was the first time that the department had asked a transgender officer to give a speech.
"I was honoured when I was asked to speak," said Abbink. "I can't imagine the city of Austin or the Austin Police Department, for that matter, being any more supportive than they are. I consider APD my family. They are truly my brothers and sisters."
"I didn't do this for anyone other than me," he added. "And I don't mean to sound selfish, but I had to do this to be the best person that I can be, so that I can serve the public — the city of Austin — to the best of my ability.
"Not that I started out to be this, but, I'd like to be a role model if I can."
Greta Gustava Martela, president of San Francisco-based Trans Lifeline said: "According to the most recent and comprehensive statistics available, 41% of trans people attempt suicide at least once in their lives, and the figures go up to 50% if their trans status is known or disclosed."
The Transgender Day of Remembrance (TDOR) was started by transgender advocate Gwendolyn Ann Smith as a vigil to honour the memory of Rita Hester, a transgender woman who was killed in 1998.
"The Transgender Day of Remembrance seeks to highlight the losses we face due to anti-transgender bigotry and violence. I am no stranger to the need to fight for our rights, and the right to simply exist is first and foremost," said Smith.
"With so many seeking to erase transgender people – sometimes in the most brutal ways possible – it is vitally important that those we lose are remembered, and that we continue to fight for justice."