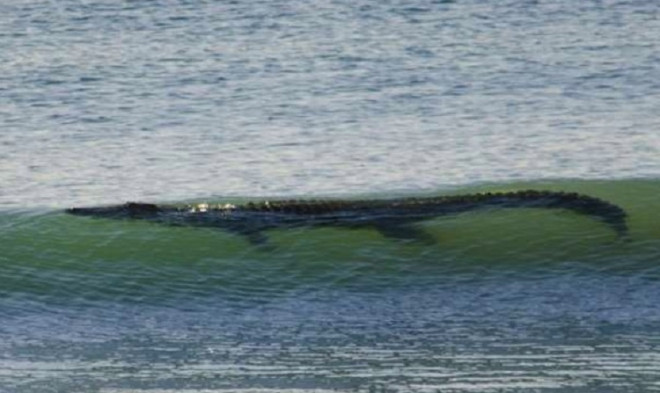 A popular beach in Western Australia was closed after a giant crocodile was spotted swimming in the sea.
The 13ft long reptile made his surprise visit to Broome's Cable Beach – a major tourism spot - on Saturday.
The saltwater crocodile was seen lurking about for the entire day before it moved on.
Rangers are now searching for the reptile to take it back to the Malcolm Douglas Wilderness Park where it's believed the creature escaped from.
Resident Sharon Scoble, who took the amazing photos of the reptile, said: "He was a big boy – his head was huge. It would be all over red over if he got hold of you."
Scoble said the croc was not showing any signs of aggression but that she thought it was looking at people on the beach.
"I felt really humbled but you probably wouldn't feel that way if you were out there on a paddle board or having a swim," she added.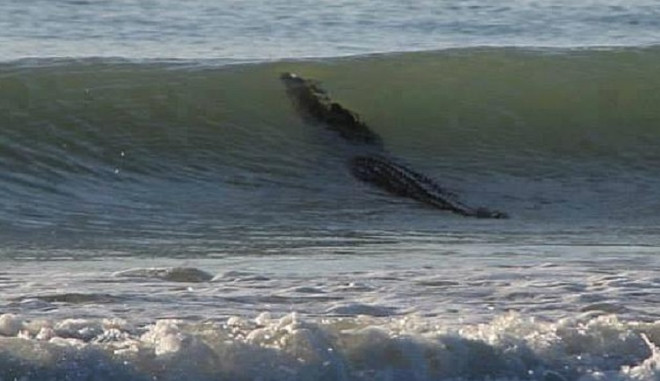 Local Parks and Wildlife officer Dave Woods said this croc is thought to be the same one that was spotted close to Broome in December 2013.
Some people took to Twitter to express their amusement at the rare sighting.
News of this croc sighting comes after a 12-year-old disappeared last month after being taken by a crocodile in the Kakadu National Park in the Northern Territory.
Witnesses saw the crocodile approach him and his friends while they were swimming. At first it bit a 15-year-old boy on the arm before letting him go when he fought back. But it then turned on the younger boy and swam off with him.
Crocodile experts say Australia's wet season - from October to March - is the most dangerous time for members of the public to be swimming in waterholes and creeks because that's when crocodiles breed in fresh water.