Australian Prime Minister Malcolm Turnbull has turned down the possibility of joint naval patrols along with Indonesia in the disputed South China Sea. However, he said that the country would work closely with Indonesia over maritime security.
"We are not going to undertake any actions which would increase tensions in the South China Sea," Turnbull said on Tuesday (7 March).
"Our commitment is to increase our cooperation with each other in terms of maritime security. So we talk about more collaboration, more coordination, but it has not been taken any further than that," the prime minister added.
Turnbull is in Jakarta to attend a summit meeting of the 21-member Indian Ocean Rim Association, Reuters reported.
The Australian PMs comments come after Indonesian President Joko Widodo had said in February during that he would want to raise the possibility of holding joint naval patrols in the hotly contested waterway. Widodo, however, had said that he would conduct take any such action only if it did not anger China.
Now, Indonesia seems to have backed down as its Coordinating Minister for Maritime Affairs Luhut Pandjaitan said on Monday (6 March) after a meeting with Australian Foreign Minister Julie Bishop that they would rather focus on other areas.
"I don't know whether it necessary for us to do join patrols over there, but for sure, for economic activity, we can do," Pandjaitan said.
Joint patrols in the disputed waters would have angered China, which is one of the key trading partners of Australia. Canberra is believed to be eyeing greater trade deals with Beijing as ties between Turnbull and the US – another key ally – soured following the prime minister's telephonic conversation with President Donald Trump in January.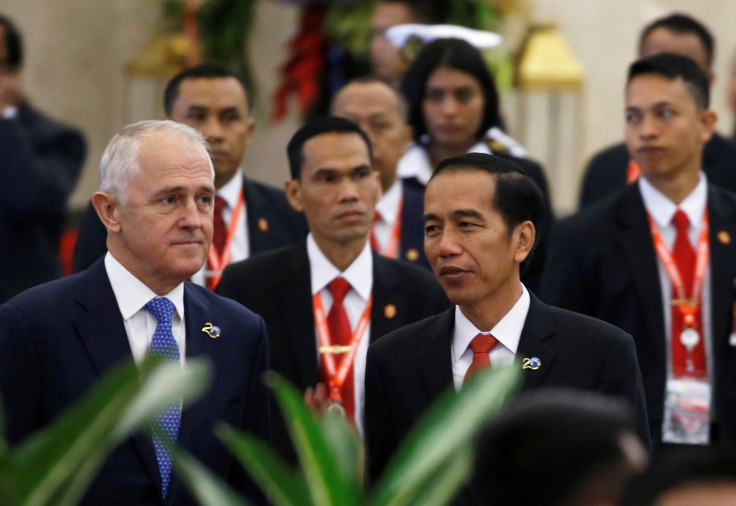 The two leaders allegedly had a heated exchange over a deal that Canberra reached with the Obama administration to resettle refugees in the US. Trump later took to Twitter to slam the deal and called it "dumb".
Australia, like the US, has no claim of its own in the contested South China Sea, but it has been insisting that its ships have a right to pass through international waters.
Likewise, Indonesia too does not have disputes with China in the region.
Both Australia and Indonesia have maintained a neutral stand in the territorial dispute. But China irked Indonesia when it said that the two countries had overlapping claims to Natuna Islands that is close to Indonesia. Beijing staged a large-scale military drill near the islands, which Jakarta considers traditionally as its own.