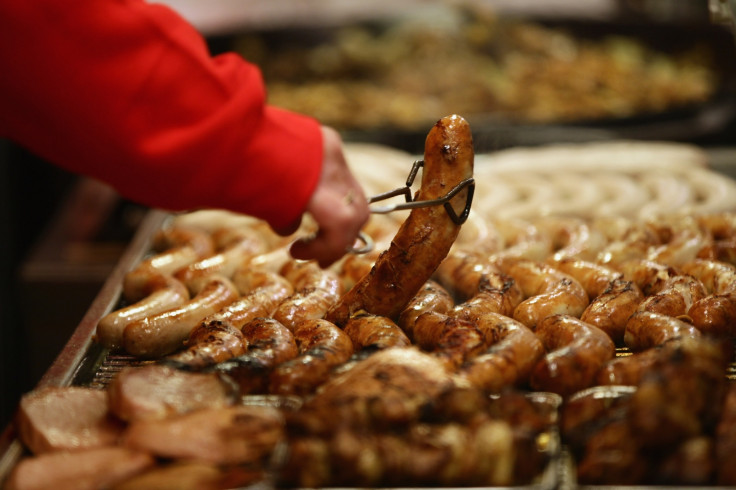 An Australian man who used a drone to pick up a sausage from a food vendor at a Bunnings hardware store and deliver it to himself in a hot tub is currently under investigation by Australia's civil air authority.
The stunt was created by a filmmaker who posted the drone footage online (which has since been deleted) showing the man penning a note that reads: "Please buy snag and put in bag, here's $10" as it set off for the sausage sizzle stand in Victoria.
After putting the note and money in a clear plastic bag, the man then attaches the bag to a string and flies over a busy motorway to a Bunnings Warehouse store to pick up his lunch.
However, Australia's Civil Aviation and Safety Authority (CASA) has said that it is investigating the incident over concerns that the flight violated safety rules.
"A busy retail car park is never a sensible place to fly a drone," CASA spokesman Peter Gibson told News.com.au. "The sausage sizzle attracts people of all ages, including children and the last thing they would expect is a drone dropping in. If the drone flyer lost control of the machine right above the people at the sausage sizzle there would be a real risk of injury."
"These are real safety risks and it is the responsibility of the people flying the drone to fly according to the safety rules to minimise any risks to people or property."
Gibson emphasised that all drone flyers should be aware and understand the rules included in the Civil Aviation Safety Regulations, adding that there violators could face penalties of up to A$9000 ($7000, £5,600).
According to CASA's rules for flying drones or model aircraft recreationally, people are only allowed to fly the device within the line of sight and no closer than 30m to vehicles, boats, buildings or people. Recreational drone operators are also not allowed to fly over populous areas such as "beaches, heavily populated parks, or sports ovals while they are in use."
Australian website EFTM, who posted the full version of the video on its Facebook page reported said they had spoken to the operator of the YouTube channel that posted the video of the drone footage who told them "we shot it in parts, never going over homes or people," adding that they had acquired permission from the sausage sizzle operators beforehand.
While the intention appears to be a harmless, pre-organised stunt for a bit of fun authorities don't see it that way. "The takeout message is simple, the drone rules are there to protect people and property," Gibson told the Sydney Morning Herald. "This is a classic example of a place where you should never fly a drone. We want to see people have fun with their drones but if you don't respect the rules then you're putting people at risk and there are penalties for doing that."