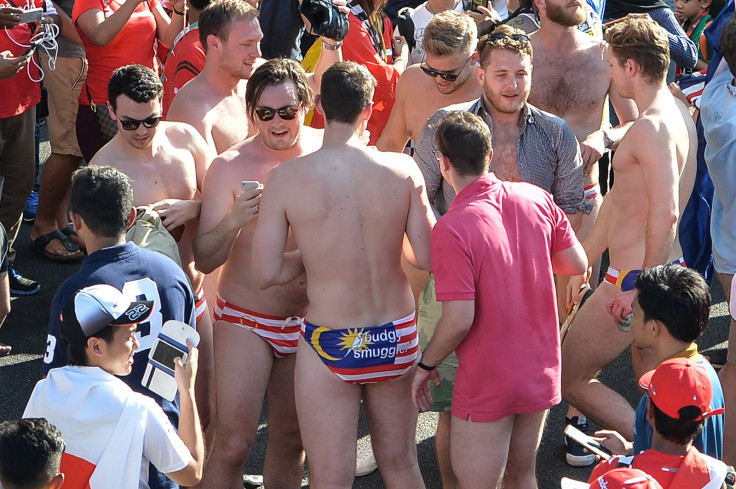 Nine Australian men have been held in Malaysia for three nights after they stripped down to 'budgie smuggler' swimming trunks at the country's Formula One Grand Prix and then drank beers from ther shoes.
Malaysian authorities have said that the group's celebration as Australian driver Daniel Ricciardo crossed the finishing line at the Sepang race track was premeditated and as such they were being investigated for intentional insult with intent to provoke a breach of peace.
The Associated Press reported that the group could face up to two years in jail or be fined or both if they are found guilty.
Foreign Minister Julie Bishop has weighed into the amount of planning that would have been required to pull off the display. "It was clearly premeditated. They were wearing the budgie smugglers they had bought in Australia," she told Australia's Nine Network.
The Australian media has seen the lighter side of the incident. "Dear humourless Malaysia. Free the Budgie Nine," Sydney's The Daily Telegraph newspaper said on its front page. The name played on the 2005 arrest in Indonesia of nine Australians for heroin trafficking. They became known as the Bali nine.
Australian Prime Minister Malcolm Turnbull has declined to comment on whether the Australians should be sentenced. "We encourage Australians not to get into trouble and that is why we encourage them to respect the laws of the countries in which they are in," he told reporters.
In June 2015, British tourist Eleanor Hawking was arrested in Malaysia for posing topless on a sacred mountain. Two Canadians and one Dutch national were also detained in connection with the incident.
In conservative Malaysia the case of indecent behaviour was complicated when locals accused the group of tourists of displeasing local spirits and causing 5.9 magnitude earthquake which killed 16.
Despite an ensuing media furore the 23-year-old Briton was sentenced to three days in prison and fined 5,000 Malaysian ringgit (£860) for "committing an obscene act in public".