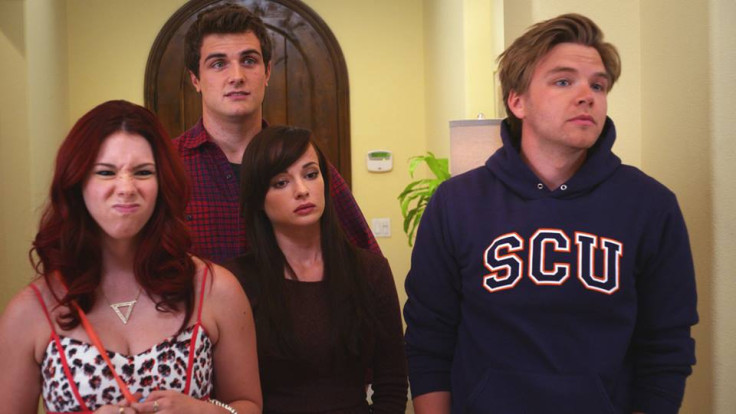 The premiere episode of Awkward season 5 had ample of senior year moments, coupled with some major drama around Jenna, Matty and Jake. While Matty learnt that his girlfriend Gabby had slept with his best friend Jake, he was aghast to find out that Jenna knew about it, but chose not to tell him.
Throughout episode 1, Jenna was trying to get over Matty and wanted to be just friends, but without success. Further, Tamara was seen reluctantly going ahead with her engagement to Adam, and while on a double date, Jenna realised that the spark between her and Brian -- Jenna's new boyfriend -- was missing, which could be because she still has feelings for Matty!
In episode 2 titled Short Circuit Party, fans would get to see Jenna becoming popular after a freak mishap. The official synopsis of the episode reads: "Jenna causes an accident at school with surprising results; Matty deals with the fallout from his altercation with Jake."
The latest promo of the upcoming episode shows Jenna getting famous after the accident that causes a power cut at school and all the students get a day off. Everyone then cheers for Jenna, and Matty realises that he is no longer the popular guy.
While episode 1 ended with severe complications in Jake and Matty's "bromance", it will be interesting to see how the two manage to get over the whole drama.
Actors Beau Mirchoff and Brett Davern who play Jake and Matty respectively have hinted that some interesting twists could lead to the two ruining their friendship.
"Jake and Matty's friendship is hinging on this secret," Mirchoff told E! News. "It's quite the predicament. It [their friendship] could end forever."
"They might very well never speak again if this ever gets out," Davern said and added, "I think Jake has to figure out why this even happened. Why did he even hook up with Gabby? He was upset from his Northwestern rejection, he'd had a few beers, he saw Gabby and she was looking good...in the back of his head, I think he's still looking through Jenna's glass doors watching Matty and Jenna hook up [back in season two]. That has always stuck with him whether or not he knows it."