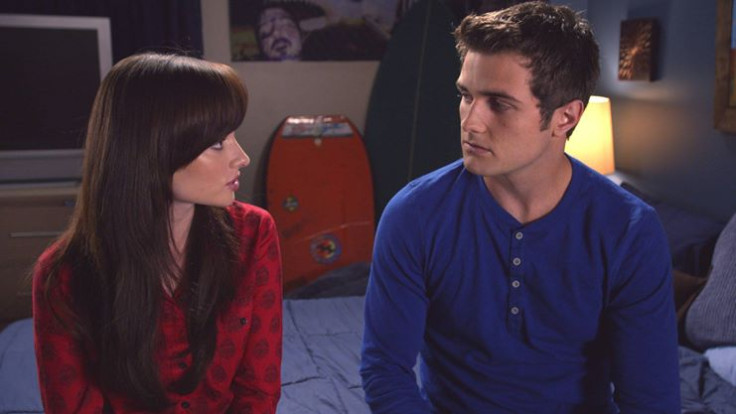 Awkward season 5 will return with a lot more drama for Jenna Hamilton on 31 August at 9pm on MTV.
The 24-episode two-part fifth season will see high school end, test friendships and force Jenna to finally make a decision about a future with Matty.
Season 5 will be packed with senior-year milestone moments - including senior pranks, prom and graduation, where Jenna will have to decide once and for all if her relationship with Matty (series star Beau Mirchoff) is meant to be.
According to reports, the second half of the fifth season will jump forward a year to summertime in Palos Hills, and show the end of high school and everyone heading in different directions.
Rickards told The Debrief: "I'm feeling pretty good about it coming out, I think everyone's gonna really love it, there's a lot of fun stuff coming up. Definitely would say I'm not thinking about it being the last season because if I was I'd be crying. It's like family at this point, like going back to school."
The actress also teased the filming of sex scenes and talked about the show's last season.
"Whenever I do a love scene, I have really weird gas issues. It's not that people are making me nauseous, but sometimes I'll be a little nauseous. I'll be like I'm really gassy.
"That's something that'll be interesting to watch. I don't wanna give a spoiler but I just filmed kind of a sex scene and literally, after every take, I'd be like, 'I have to fart sooooo bad,'" she said.
MTV's senior vice president Mina Lefevre also discusses Awkward season 5 and says that the story does not end there.
She said, "It's finally here! We have been through many of their high school ups and downs and at the end of the first half of season 5 we finally see Jenna and her friends graduate. But the story doesn't end there."
"In the second half of season five we pick up with the cast a year later...where they quickly realize those awkward moments don't stop once you leave high school. This opens up endless opportunities to continue telling their story," Lefevre teased.
Previously, co-executive producer Mike Chessler dished to TVGuide "This is a great way to reset the table and see how people have changed -- or wanted to change -- the year they were away."
Co-executive producer Chris Alberghini added, "So much changes, everybody comes back a different person. Well... you think you're really different. And not everyone will have gone to college and not everyone will have made it through freshman year at college. The time jump helped us come up what we think are satisfying endings for both 5A and 5B."
The season 4 finale left fans on a cliffhanger with Lacey finding out she's pregnant, Jenna falling for Brian, Tamara getting engaged to Brian's friend Adam, Jake sleeping with Gabby, Val deciding to quit her job and most tragic of all, Matty accepting that he's lost Jenna forever.
Watch the season 5 trailer here: