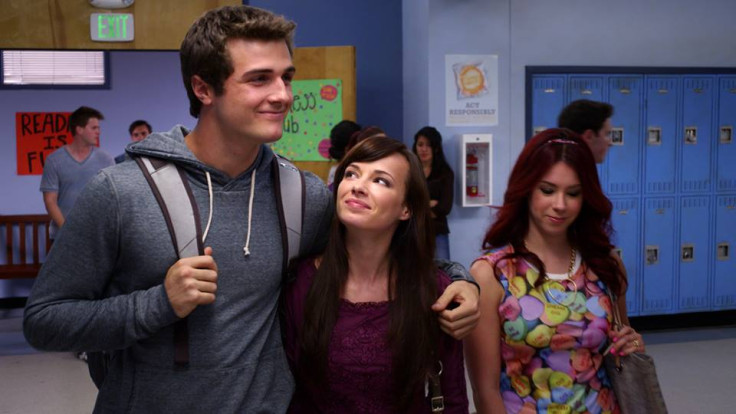 MTV has released a new trailer of its hit show Awkward that will return with the premiere episode of season 5 on 31 August.
In the new trailer, the network has dropped hints of Jenna and Matty's reunion. Moreover, the 24-episode two-part season 5 will see high school end for the students, would test friendships and fans may even get to see Jenna being forced to make a decision about a future with Matty.
In the promo Valerie Marks tells Jenna, "Trust your heart because every moments counts..." And glimpses of their graduation and preparations for prom night are shown.
"We were really good together," Matty is heard telling Jenna, as she questions "What are you saying?"
"I miss the way we were," he says and adds, "I still want to be with you, you still want to be with me..." Then, Jenna is seen smiling in a white gown at the prom.
In the next scenes Jake and Tamara hug, post which, Sadie is shown giving a speech at their graduation ceremony as their valedictorian. But the highlight of the video is Matty walking away from Jenna at prom, saying, "Wait".
The promo soon ends as Jenna is seen wanting to tell Matty something. What you think she wants to tell Matty? Some speculate that she wants to get back to him!
Meanwhile, MTV's senior vice president Mina Lefevre discussed Awkward season 5 and said that the story does not end here.
Lefevre said, "It's finally here! We have been through many of their high school ups and downs and at the end of the first half of season 5 we finally see Jenna and her friends graduate. But the story doesn't end there."
"In the second half of season five we pick up with the cast a year later...where they quickly realize those awkward moments don't stop once you leave high school. This opens up endless opportunities to continue telling their story," she teased.
The season 4 finale left fans on a cliffhanger with Lacey finding out she's pregnant, Jenna falling for Brian, Tamara getting engaged to Brian's friend Adam, Jake sleeping with Gabby, Val deciding to quit her job and the most tragic of all Matty accepting that he's lost Jenna forever.
Now, it remains to be seen, how things pan out for the young students.