A baby dolphin died on a beach in Spain after hundreds of holidaymakers surrounded it and had their pictures taken with it rather than helping it swim back to its mother in the sea.
Pictures uploaded by conservation group Equinac show adults and children flocking round the infant, which was still at a breast feeding age, at the Almeria beach over the weekend.
The group criticised the behaviour of the beach goers on Facebook, saying: "Once again we note that the human being is the most irrational species that exists.
"There are many who are incapable of empathy for a living creature, alone, scared, starved, without his mother and terrified, because many of you, in your selfishness,only want to photograph and poke, even if the animal suffers distress."
Equinac say they were alerted to the stranded infant by Spanish authorities who noted that the lifeguard had "lost his nerve" and been unable to protect the creature from the photo-happy mob.
It is understood that the animal was initially stranded in the shallows when it was first interfered with by the crowds.
However, by the time it died it had been carried onto the beach and passed around by hundreds of people for photo opportunities.
"Does it have to be us, the police or the lifeguards that have to teach you common sense?" Equinac sad in an emotional statement.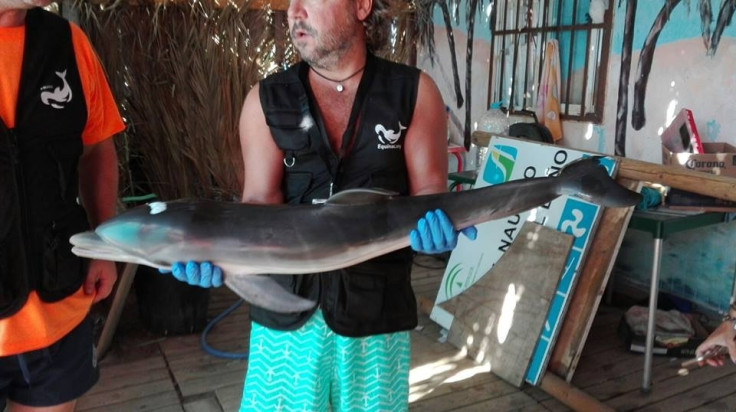 "We have produced a lot of materials about what and what not to do, and we even understand that because of a lack of knowledge, you might wrongly treat an animal... but this? catching a baby dolphin who is terrified and using it to take pictures with your children?" they added.
In January rangers in Western Australia were alerted to a photograph of bottlenose dolphin trapped in a T-shirt on Australia Day, off the coast of Bunbury. Staff from the nearby Dolphin Discovery Centre were informed and sent pictures which showed the dolphin impeded by the clothing. It is not known if the animal had been deliberately abused.