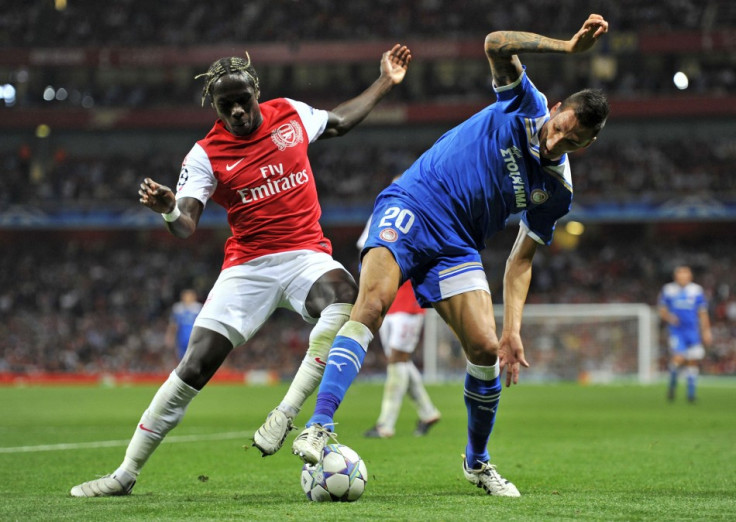 Barcary Sagna has been able to experience first-hand being a fan over the past few months, and the right back says he has found a whole new perspective as he prepares to make a full comeback to the Arsenal starting line-up.
Sagna has been recovering from a broken leg, and has been out of action since October. And the 28 year old received a standing ovation at Bolton as he completed 90 minutes for the side.
But while Sagna has been particularly frustrated at not being able to help the Arsenal squad on the pitch, he has found it a humbling experience to watch the side from the stands.
"I've watched many games, Arsenal and others, and when you're standing with the crowd it's totally different," he told Arsenal Player.
"You can see open spaces that you can't when you're on the pitch because the angles are different. What looks easy when you're watching a game is often more difficult on the pitch, and you realise why supporters get nervous when you do certain things. I think I understand that more now.
"I always look at other right backs, what they do well and what they don't, so hopefully I've picked up some new things for my game too."
Sagna's experience is badly needed at Arsenal, with the north London club currently struggling to hold on to hope that they will finish in the top four.
And the defender says that while it was a tough road to get through his rehabilitation and recovery, the reaction of the fans have reminded him that he needs to give the side his all.
"It was quite a long time out and you go through many states," he explained. "You have to accept the injury first of all, and after that you have to work hard to come back. I've done that and am very glad to be back with the team again.
"The reception I got [against Aston Villa] was amazing, just amazing. I was not expecting everyone to give me a standing ovation, but it gave me confidence straight away. As long as I'm playing for Arsenal I'm very happy, and I will always give my best for this team."
Arsenal are currently seventh in the Premier League table, and are five points off fourth placed Chelsea. The Gunners have a tough schedule coming up, with four games within three weeks, and the all-important away clash with AC Milan in the Champions League to face.