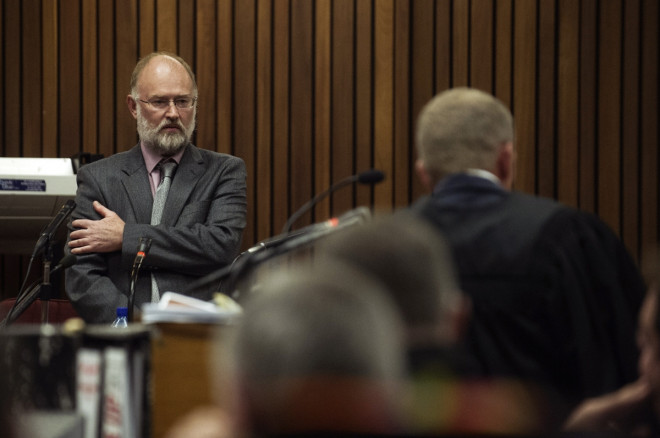 Oscar Pistorius had another bad day in court as his own witness apparently contradicted the runner's version of what happened in the moments Reeva Steenkamp was shot dead.
Under questioning by prosecutor Gerrie Nel, expert witness Robert Dixon said the magazine rack in the bathroom was in the same position as shown in police photographs.
This was in contrast to the case made by Pistorius, who has insisted the rack was disturbed by officers investigating Steenkamp's killing on Valentine's Day last year.
It marked a dismal end to the proceedings for the runner ahead of a prolonged adjournment in proceedings until 5 May.
The break cannot have come too soon for the fallen star and his legal team, as they seek to bolster his defence in the wake of a string poor performances which have seen him fumble his way through cross-examination and contradict himself several times.
Forensics expert Dixon has also endured a tough three days in the witness stand under questioning by Nel, who repeatedly cast doubt upon his credentials as an expert.
"You want to give the court a version on which you're not an expert and you're not listening," Nel told him during cross-examination.
Dixon, a former policeman who is now a geologist at Pretoria University, took to social media to bemoan attacks on his "integrity."
Writing on Facebook, Dixon – who told North Gauteng High Court he avoids newspapers and magazines to escape being influenced by them - wrote: "Third day in court today. Let's see how much of my credibility, integrity and professional reputation is destroyed.
"It is difficult to get belief in those who will not listen because it is not what they want to hear. After that, beer!"
He told Telegraph reporter Aislinn Laing the message was by him when asked about it during an adjournment.
The day began with a ticking off from judge Thokozile Masipa for trial observers following proceedings from a overflow room next door to the court room.
It followed reports that watchers had been clambering over furniture, munching packets of food and booing and cheering events on screen.
Pistorius denies premeditated murder and claims he mistook Steenkamp for an intruder inside his luxury home on the outskirts of Pretoria. The prosecution alleges he killed her following an argument between the couple.
He also faces charges of illegally firing a gun in public and of illegally possessing ammunition, both of which he denies.
The trial continues.