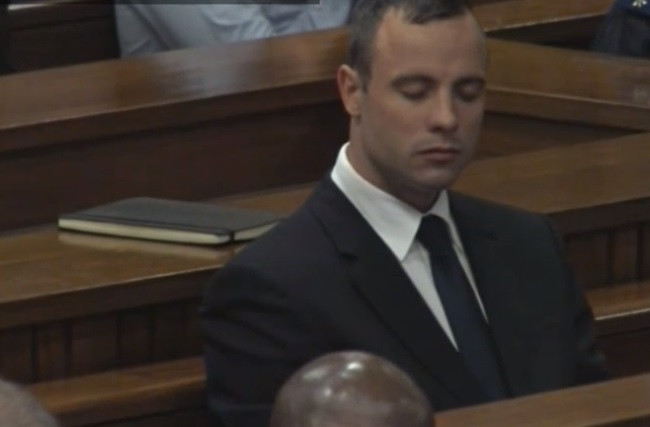 A picture speaks a thousand words and the one above shows the effect days of relentless questioning by Gerrie Nel has had on Oscar Pistorius.
Looking drained at the end of the gruelling cross-examination from the prosecutor they call the 'Bull-terrier', the athlete known as the Bladerunner seems to have truly lost his sharp competitive edge at North Gauteng High Court.
The Olympian and Paralympian runner sat with his eyes closed for a prolonged period, after finally stepping down from the witness stand at the end of his testimony.
Nel's intense and forensic questioning of the runner over five days has seen the lawyer compared to a bloodhound on social media by trial observers.
In contrast, the 27-year-old seemed at times like a broken man and repeatedly broke down in tears under the barrage of questioning from Nel, which took him right back to the night he gunned down Reeva Steenkamp.
The fallen star has spoken previously of feeling drained and tired during hours of giving testimony. This admission earned a rebuke from judge Thokozile Masipa, who warned him being fatigued was harmful for his defence.
Nel's dogged displays day after day transformed his image as "soft" - as some trial observers had wrongly painted him - before seeing him cross-examine witnesses.
Pistorius denies premeditated murder and claims he mistook Steenkamp for an intruder inside his luxury home on the outskirts of Pretoria. The prosecution alleges he killed her following an argument between the couple.
He also faces charges of illegally firing a gun in public and of illegally possessing ammunition, both of which he denies.
There are no juries at trials in South Africa, and his fate will ultimately be decided by Judge Thokozile Masipa.
The trial continues.