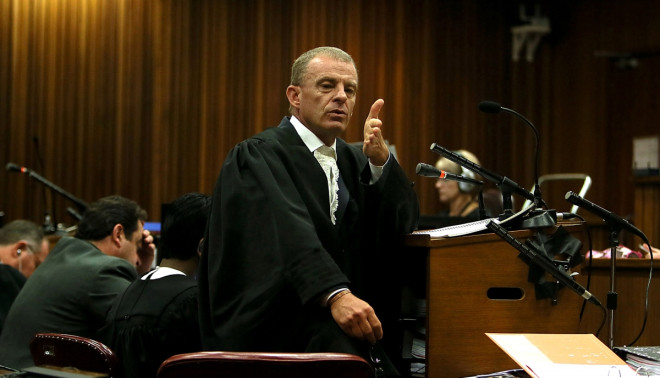 The murder trial of Oscar Pistorius continued with prosecutor Gerrie Nel laying into a forensic expert for his claims about how many times Reeva Steenkamp was shot.
Roger Dixon told the court none of the four bullets the runner fired missed Steenkamp, in contrast to the State, which said the model, 29, was blasted three times.
Prosecutor Gerrie Nel showed no sign of modifying his cross-examination style, following a failed complaint against him for allegedly breaching Pistorius's human rights with his abrasive questions.
Dixon - whose day job is analysing soil at Pretoria University - saw his credentials come under attack for casting doubt upon the case pathologist's explanation for injuries on Steenkamp's back.
Dixon claimed they were made by the magazine rack in the star's toilet, instead of by a bullet ricochet like the pathologist said.
Nel told an increasingly flustered Dixon: "You see how irresponsible it is to make inferences in areas where you're not an expert?"
Nel questioned Dixon about his credentials as an expert witness at the 27-year-old's trial. Dixon carried out a well-publicised test on the noise a cricket bat made when it hit a door. That prompted Nel to question what expertise he deployed in whacking the door with the bat.
"I reconstructed the logical sequence of events, trying to take every aspect in to consideration. I pointed out yesterday I am not a ballistic expert. When I feel I cannot interpret I say "no I cannot.
When Nel asked what expertise he used in this test, Dixon replied: "The cricket bat test was purely to determine whether the bat striking the door could be confused with a gun being fired."
Pistorius denies premeditated murder and claims he mistook Steenkamp for an intruder inside his luxury home on the outskirts of Pretoria. The prosecution alleges he killed her following an argument between the couple.
He also faces charges of illegally firing a gun in public and of illegally possessing ammunition, both of which he denies.
The trial continues.