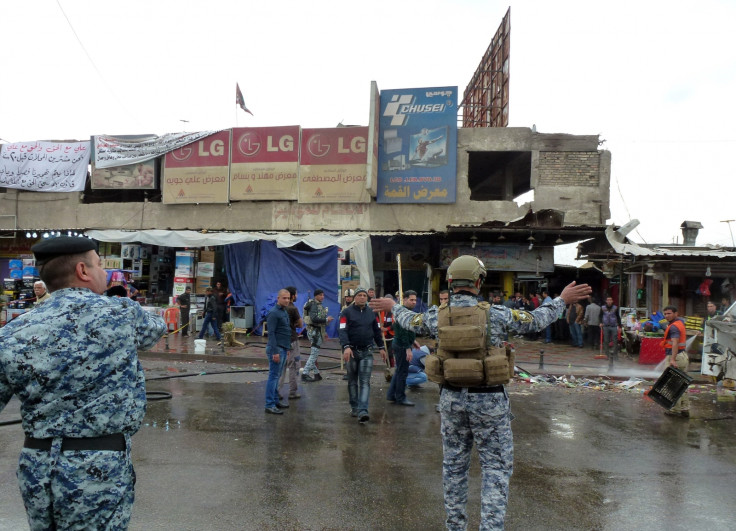 A suicide bomber targeted central Baghdad where pilgrims were buying food and drink on their way back from the shrine of the Imam Ali.
There were other attacks across Baghad including the eastern area, where another two pilgrims were killed and nine wounded when a roadside bomb exploded on Palestine Street.
At the northeastern edge of the capital, in the town of Bab al-Sham, at least three mortars killed four Shiite pilgrims and wounded another 12.
In Mashahidah, just north of Baghdad, at least three pilgrims were killed and eight wounded by an improvised explosive device.
Police officials said that in total at least 19 people were killed with more than 50 wounded, with hospital officials confirming the figures of the dead and casualties.
Security was tightened earlier in the day in Baghdad to protect Shia Muslims who are converging on the capital.
They were coming to celebrate a religious festival marking the death of Imam Ali, the seventh Imam in the eighth century.
No one has claimed responsibility for the attacks but the Islamic State has been behind attacks in several of the capital's predominantly Shiite neighbourhoods.
Armed attacks, bombings, improvised explosive devices and car bombs have increased recently in Baghdad, reminiscent to the Sunni-Shia sectarian violence in 2006 and 2007.
On Sunday, several people were wounded by an explosion northern the capital Baghdad, according to the Iraqi police.
"A car bomb parked on the side of a road in al-Sabaiyat area north of Baghdad exploded, wounding three passers-by as they were taken to hospital for treatment, The source told Shafaq News.
Many Iraqis have been forced to flee from the violence. Abu Ammar, a 33-year-old father of two, said he fled the area and now lives in a small rented house in Kirkuk. "Shia and Sunnis lived side by side in the village," he told the Guardian.
"But when Isis took the village they burned the houses of our Shia neighbours. When the Shia militia forced out the Isis militants, they also torched the houses of Sunnis".