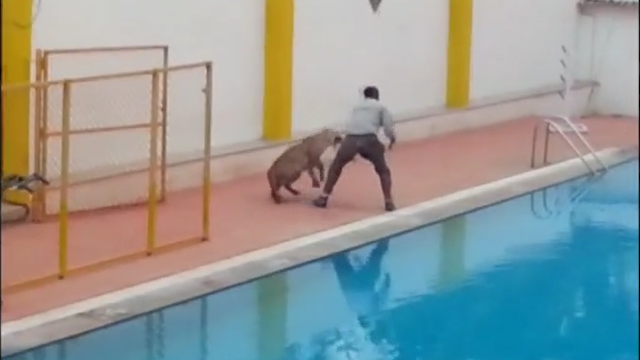 A leopard that injured five people in Bangalore, south India has escaped captivity once again. The leopard was spotted at Vibgyor International School on 7 February, resulting in a dramatic ten-hour attempt to capture the animal and tranquilise it.
On 15 February, one week later, reports emerged that the leopard escaped from its enclosure at Bannerghata Biological Park. The Hindu reported that the leopard squeezed itself through the bars of the rescue cage it had been placed in, prompting nearby villages to be put on alert.
More than 50 forest officials are believed to be searching for the animal since it was rescued in the middle of the night on 14 February. They have said that if the leopard wandered into the nearby Bannerghata National Park, efforts to trace it would become more difficult as it is spread over 100sq/km.
According to reports, the leopard was agitated and restless after it was captured at Vibgyor International School and officials were reluctant to release it into the wild because it had a missing canine and a cloudy eye.
Chief Minister of Karnataka, Siddaramaiah, told reporters that he would seek details of the animal's escape. He said: "I will talk to the forest department officials and find out the reason. We will get to how the leopard escaped only after a thorough investigation."
A few days after the leopard was captured, warnings of leopards on the prowl forced 135 schools to close. At least three leopards were allegedly spotted by residents on the outskirts of Bangalore on 9 February.
The leopard is the second animal to escape the rescue centre in 2016 alone. In January a Himalayan Black Bear scaled the walls of the compound and wandered away. The bear was spotted in a village 6km away and as many as 150 men were required to recapture the animal. Despite the large number of men, as well as a few elephants, it took nearly four hours for them to catch the bear.