Bangkok bomb: First pictures and video of suspect released showing man in yellow shirt carrying backpack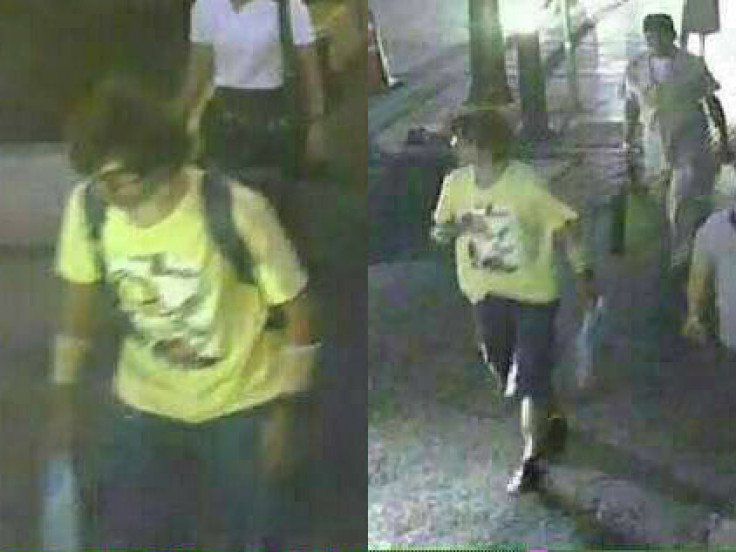 Thai police have released the first CCTV pictures of a suspect in the Bangkok Erawan shrine bombing. The man, wearing a yellow shirt, is seen in the security camera image with a backpack and then in a later image, without the bag. Police said the man could be a Thai or a foreigner.
"That man was carrying a backpack and walked past the scene at the time of the incident. But we need to look at the before and after CCTV footage to see if there is a link," National police chief Somyot Pumpanmuang said on 18 August.
Video footage also released by Thai authorities shows the moment the suspect slips off his backpack in the area just minutes before the explosion occurs:
The video footage, posted to Facebook by Thai news agency Thairath, shows the suspect walk through the crowds at the Ratchaprasong road junction in the centre of the city. He proceeds to slip off his backpack on a bench by the Hindu Erawan Shrine, before departing.
A timestamp on the CCTV video marks the incident as taking place at 6:40pm local time, just 20 minutes before the bomb exploded.
Earlier, Prime Minister Prayuth Chan-ocha said the authorities are hunting for a suspect seen on closed circuit television footage near the scene of the bombing. "Today there is a suspect who appeared on CCTV but it's not clear... we are looking for this guy," he said, adding that the suspect is believed to be from an "anti-government group based in Thailand's north east."
The bomb at the popular Erawan shrine in central Bangkok killed at least 22 people, including eight foreigners from China, Hong Kong, Singapore, and Malaysia, and injured hundreds more. The explosive was detonated at about 19:00 local time (12:00 GMT) on 17 August, at a time when the shrine and the Ratchaprasong intersection was crowded. Police chief Somyot Poompanmoung said the bomb was made with a pipe wrapped in cloth and weighed 3kg. Nobody has claimed credit for the attack.
On 18 August, an explosive was tossed at Bangkok's central Sathorn pier, a main tourist boat depot, but it bounced into the water causing no injuries or damage.
© Copyright IBTimes 2023. All rights reserved.